Programme Length and Credits
6 Semesters (Full-Time)
360 credits
Specialization
Mechanical Engineering (Associate Degree)
Electronics Engineering (Associate Degree)
Electrical Engineering (Associate Degree)
Programme Entry Requirements
Entry requirements specific to this programme are as follows:
Academic English competence indicated by:
Achieving the required level in the Bahrain Polytechnic English Selection Test, or
Holding a current IELTS certificate of 4.5 with no individual band score less than 4.5, or equivalent grade in an internationally recognized certificate e.g. TOEFL.
Academic Mathematics Competence indicated by:
Successful completion of the Bahrain Polytechnic course MAC2002 Technical Mathematics, or
Achieving the required level in the Bahrain Polytechnic Mathematics Selection Test, or
Successful completion of an approved bridging programme.
Apply
Course Fees
Download Brochure
Introduction and Programme Aims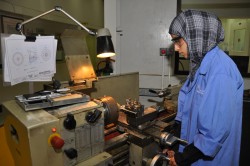 The aim of the programme is to provide students with the skills and knowledge required for employment as engineering technicians. It prepares students specifically to:
Apply engineering theory to practice, and competently perform technical operations.
Apply informed, rational decision making in a specialist field of engineering and implement these decisions.
Analyze and evaluate systems and produce required technical documentation through the inclusion of courses in English language, mathematics and project management.