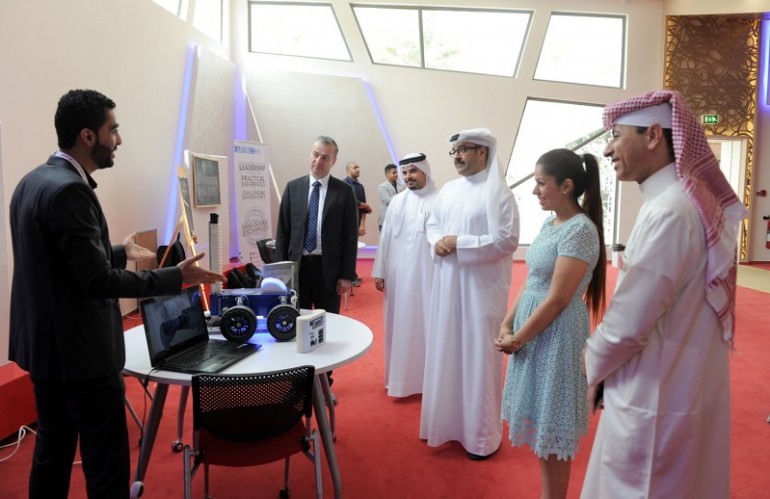 Under the patronage of Bahrain Polytechnic's Chairman of the Board of Trustees, Sh. Hisham bin Abdulaziz Al Khalifa, the Polytechnic hosted its 5th Graduate Recruitment Campaign under the name "EmPOLYability" at the campus to provide an opportunity for graduands and employers to meet together in one place to match skills and vacancies.
Sponsored by Batelco, Zain, VIVA, Forsati and Effects Graphics, the event allowed 21 graduands and unemployed graduates to present their skills and experiences in a matter of 3 minutes on stage to 30 companies from various sectors in Bahrain. In addition, employers may identify the most skillful candidates to fill future positions.
As part of the Polytechnic's community initiatives and the support of the Disabled Services Centre, the "EmPOLYability" event allowed individuals with special needs to apply to vacant jobs. The centre is specialized in employing the disabled in private and non-governmental sectors.
Dr. Jeff Zabudsky, CEO of Bahrain Polytechnic, stated: "This unique event gives students the opportunity to showcase their skills and present themselves in front of many companies.
"The idea of the event was taken from the Angel Investors concept of matching innovators with investors. Here, an 'elevator pitch' is developed by each student to succinctly sell the benefits that they will bring to an employer in only 3 minutes. This was followed by individual interviews with the companies."
The Graduate recruitment campaign was perceived positively by both employers and students. Employers have praised the skills and attitudes of the Polytechnic students who they perceive as being different from other university graduates.
Dr. Zabudsky continued: "I'm delighted to see how companies speak positively about our graduates, and I would like to thank them for attending the annual recruitment campaign. I'd also like to thank our sponsors for supporting our event, including our staff who organized the event."
Posted on 19 June, 2017 in News