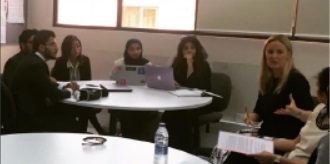 This semester year three Marketing students are working closely with Think Pink Bahrain to develop an integrated communications campaign to increase awareness about breast cancer in Bahrain. This was possible as a result of introductions made by Sh. Fay Alkhalifa, Bahrain Polytechnic's Acting Manager for Commercial & Community Initiatives and Think Pink partner.
Year three students are taking Marketing Research, Integrated Marketing Communications and Digital Marketing courses, these courses have integrated Think Pink campaign objectives. Students met with Mrs. Julie Sparkel, Founder & President of Think Pink Bahrain, Vice President Mrs. Tahera Al Alwai and managing partner Sh. Fay Alkhalifa at the start of the semester to discuss their expectations and objectives. Students will research perceptions about breast cancer in Bahrain and build a campaign using online and offline media to raise awareness, encourage early detection and help people make better decisions for themselves and their families.
As part of their assessments across the three courses students will present their final solutions to the Think Pink management team in January. Integrating this project directly from industry has helped to provide a rich teaching and learning environment for students. Saleh Shuqair is responsible for integrating this project into his Marketing Research and Integrated Marketing Communications course together with Darren Morris for digital marketing.