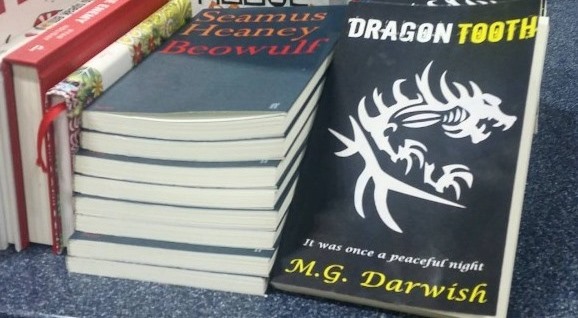 Mohamed Darwish, a graduate from the Polytechnic and a member of its alumni club, has published a fantasy novel called "Dragon Tooth", which officially released at all Jashenmal stores in Bahrain on 19th August 2016.
"Dragon Tooth" is an epic fantasy, where magic plays a significant role in how the world is shaped. The story revolves around 'Mist', who is next in-line to assume the mantle of master of the 'Dragon Tooth' guild; an elite magic guild consisting of powerful wizards who carry out requests put up by citizens for a reward.
Mohamed Darwish expressed his delight for publishing his first book to the public, where his inspiration came from reading and watching popular books and movies.
"At the beginning I only thought about writing a good story to be honest." said Mohamed. "There are always times when you read popular books or see movies and think "What if this happened or that?" and the way that the events would play out in my head would take a totally different approach than what was portrayed, and mostly this was the drive for me to get this book written.
"Sometimes, it would take me about a week to finish a chapter, and other times it would take me a couple of months. But I think writing in itself is a form of art, and just like everything in life, the more you do it, the better you get at it eventually."
About how he trained himself to write, he added: "You have to read a lot. I had a passion for writing ever since I was a kid but I started taking it seriously the more I researched about it. One thing I would recommend is to always look at books or tutorials where they tell you of the most popular mistakes that writers do when writing, because when you learn those mistakes and how to avoid them, you are already putting yourself ahead in the writing world.
"I've learnt a lot [from writing this book]. More than I can remember. But most importantly that writing is a process, and every process has stages. If you sequentially plan your book in advance (in terms of plotting, character sheets, and world building) then you're in for a ride to be remembered." he continued.
"I think that Bahrain is definitely moving towards a writer friendly environment. I don't think it'll be long before we can have full time writers and authors who prefer this as a career path. I want to encourage any person who thinks they want to write a book [to start writing]. The difference between an author and someone who's not, is just that the author didn't give up."
Dr. Mohamed Al Aseeri, Acting CEO of Bahrain Polytechnic, congratulated Mohamed Darwish on the publication of his novel, and is delighted to see its graduates excelling in their hobbies. Dr. Al Aseeri encouraged the youth of Bahrain to begin embracing their passion and start turning their hobbies into a potential career path.
"Dragon Tooth" is available for purchase at all Jashenmal stores in Seef Mall, City Centre and Aali Mall.