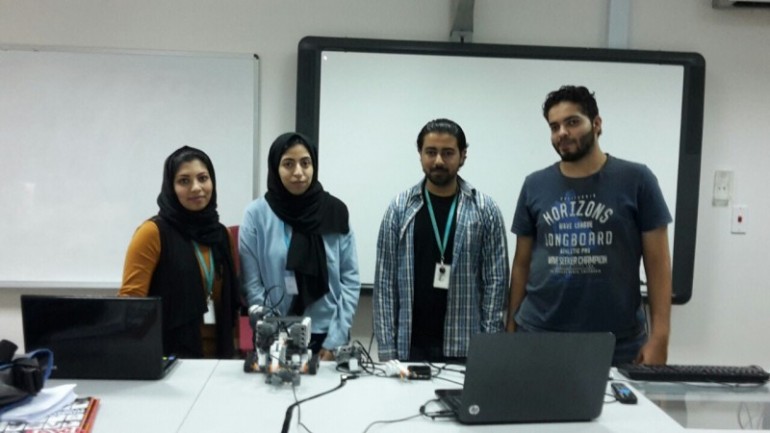 Four Bahrain Polytechnic engineering students, Duaa Alaali, Hasan Jaafar, Fawziya Kunju and Ali Madan, won first place at the local rounds of the GCC Robotics Challenge, organized by the Bahrain Engineering Society in cooperation with the Institute of Electrical and Electronics Engineers (IEEE).
The GCC Robotics Challenge aims to encourage university students in the GCC to build strong and innovative robots, specifically focusing on its technical feasibility, efficiency, innovation and creativity in design.
The challenge consists of 6 rounds for each GCC country. Participants should win all rounds in order to qualify to the finals held in Kuwait on December 12th 2015, where the winning team from each country will participate in the final round to win cash prizes and certificates of appreciation.
In the past, Bahrain Polytechnic qualified for a similar international competition held in the United States which took place during mid-April, where a Bahrain Polytechnic student was in the team representing the Kingdom of Bahrain, winning one of the seven awards distributed to the contenders.
On this occasion, Dr. Mohamed Al Aseeri, Acting CEO of Bahrain Polytechnic, said: "These achievements of our students' shows their abilities in being creative and innovative, which falls under our strategic plan 2015-2019, especially after we've established the ICT Innovation Lab in 2013, which helped in developing [our talented students].
"Theses students are the pride of our institution, and they carry the spirit and creativity to keep developing the Kingdom of Bahrain, as is the same motivation carried by the young generation of this Kingdom.
"Bahrain Polytechnic continues to provide innovative teaching methods in line with the labor market, where students can gain multiple and necessary skills through our academic programmes. Clearly, this enabled our students to participate in such competitions, and we hope to keep achieving more success to meet the government action plan 2015-2018 and Bahrain 2030 Vision." concluded Dr. Al Aseeri.