Programme Length
8 Semesters (Full-Time) – 480 credits
Programme Entry Requirements
Applicants must achieve the minimum requirements in the English and Mathematics entry tests OR passing Maths and English courses in the Foundation programme.
Course Fees
Apply Now
Introduction and Programme Aims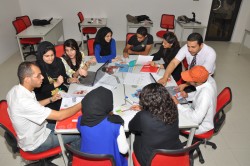 The Bachelor of Film and Animation is a multi-disciplinary undergraduate degree offered to participants interested in furthering their education in the fields of filmmaking, sound, animation and time-based media. This degree is designed to introduce and further specialize the learners' in-depth understanding, knowledge, and skills in film and animation, and to extend their abilities to apply their competence in practice. This programme is suitable for students interested in digital content creation, including  a variety of styles of filmmaking, audio production, and animation. Working on real-world projects in teams, students learn all aspects of digital production then specialise in film, sound or animation. Students can include courses from the Web Media and Visual Design programmes in their Film and Animation degree. Combining the art of time-based media design with the technology of filmmaking and animation, students gain first-hand experience in professional film production in both simulated and real work environments.
The programme's flexible structure allows students to develop their skills in any aspect of film or animation production. Courses are tailored to careers that students wish to pursue.
The programme aims to:
Provide "hands on", highly interactive learning experiences, taking into account relevant industry issues of today, as well as issues that will fuel and inspire the fields of filmmaking, sound design, and animation in the future.
Provide an environment which encourages students to achieve excellence within their discipline areas and to develop their cultural and aesthetic sensitivities, leading them to an understanding of human factors essential to the communication of ideas.