What We Offer
One of the key success factors for Bahrain Polytechnic is the established long term relationships with national and international private and public institutions.
The role of the Industry Liaison Team is to provide effective interface with private and public stakeholders and seek input from industry and business in education and training programmes, to be in line with current and future economic trends and labour market needs.
The following services are provided by Industrial Liaison:
Bridging the gap between Bahrain Polytechnic and public & private education sectors, industry and the business community to provide Bahrain Polytechnic staff and students with essential Industry and business community relationships.
Liaising with and maintaining on-going relationships with industry, Business, Government leaders and agencies, and professional associations.
Identifying industry skills gaps and opportunities and providing feedback to academic colleagues, Faculties, Careers Employment Centre and the Professional Development Unit.
Identifying opportunities for the provision of specialised training programmes and short courses for industry and business for their training needs.
Providing students and staff with opportunities to interact with industry and the business community by hosting regular forums and seminars with industry leaders as guest speakers.
Seeking potential contributors from industry and business community for scholarship, sponsorship and internship opportunities for students.
Identifying and following up possible research or development opportunities with industry and the business community
Managing a range of Work Integrated Learning activities, eg student work experience, staff and student visits to workplaces
Reporting on and analysing employability skills data.
Facilitating curriculum alignment activities between schools and faculties.
Exploring of Joint Venture ( JV) opportunities internationally for academic activities.
Keeping track of Bahrain Polytechnic graduates in the labour market.
Encouraging and supporting staff to engage in research activities of various kinds with Business and Industry.
Keeping up to date with trends and technologies and ensuring staff are provided with updates, opportunities for reflection in the programs.
Bahrain Polytechnic's short courses aim is to partner with industry, Government, and community to design, develop, and deliver high quality industry-specific education and training opportunities. These courses offer continuing support for the career growth and skills development of your employees. Many of these courses have practical or technical elements at a variety of levels to help improve your organisation's productivity and to enhance your national and international competitiveness.
Bahrain Polytechnic offers:
Short courses tailored specifically to meet identified skills gaps in the current workforce
Applied qualifications from certificate through to post graduate level with a heavy emphasis on the practical skills directly applicable to the job market
English language courses at all levels, both "tailor-made" or general.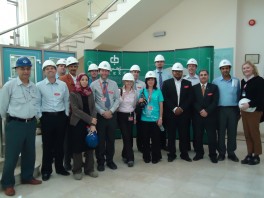 Bahrain Polytechnic degree programmes include project and research-based learning. Hence it is very much essential for students and staff to participate in projects and research opportunities with the industry and business establishments. Learn more about Student Industry Projects in Business, International Logistics, Engineering, Information and Communications Technology, Visual Design and Web Media
Employment and Employability

Bahrain Polytechnic's concern does not finish when students complete their studies. It also extends to its graduates. The Polytechnic conducts periodic phone surveys to monitor graduates' achievements with regard to their employment. Bahrain Polytechnic has followed this practice since it had its first batch of graduates and results to date are very encouraging. Our Career and Employment Centre continues to help our graduates in the process of obtaining employment.
Employability Skills
Bahrain Polytechnic missioned to prepare its graduate to be work ready and adapt the economic dynamics of the local, regional and international market.   We used the conceptual approach to define Employability at the institution and creates a contextualize Employability framework.  The position of the learners in the framework indicates the acknowledgment of the institution of the services that rotate around them.
Bahrain Polytechnic has a team of staff whose primary role is managing relationships with key stakeholders, linking with internal staff to enrich students' experience, inform short course offerings, and develop new business activities through partnership.
Partnership with Bahrain Polytechnic will provide mutual benefits through:
The Industry Partners Programme
Curriculum Advisory Committee (CAC) roles
Work placement for students
Industry visits
Guest speakers
Training
Collaborative research
Forums
Consultations and advice
Networking and sharing of advances in the field
Short course and programme development
Scholarship and sponsorship
Bahrain Polytechnic presently has strong relationships with:
The Labour Market Regulatory Authority (LMRA)
Tamkeen
Chartered Institute of Logistics and Transport (CILT), UK
International Computer Driving Licence (ICDL) – GCC Foundation
The City and Guilds of London Institute, UK
Cisco Academy
Microsoft IT Academy
VMware Academy
Oracle Academy
The Sun Academic Initiative (SAI) Programme
The British Council
The Regional English Language office of the Embassy of the United States of America
Bahrain Polytechnic presently has MOU's/ Agreements with the following (in alphabetical order):
ALBA
Al Amthal Group
Archetype Foundry Consultation WLL
Bahrain Airport Company
Bahrain Airport Services
Bahrain Business Women's Society
Bahrain Trust Foundation
BIBF
CH9
Ebtikar
GAA
Hack Arabia
Hirestream
Huawei
IHR – Regency Bahrain
KPMG
Microsoft
Min of Culture & Haaga-Helia University of Applied Sciences
Ministry of Labour & Social Development
National Space Science Agency
NGN International
OpenInside
OTAGO Polytechnic
Peninsula Farms
Silah Gulf
ThinkSmart
T-Linx
Trans Arabian Creative Communications – TRACCS
Trust Re & Takaful Insurance
University of East London-Royal Docks
The following list of companies and organisations have regularly collaborated with Bahrain Polytechnic in providing student work placements and projects:
Arabian Fibre Glass
Agility
AIRMECH
Al Baraka Islamic Bank
Al Salam Bank
Alezzel Power Plant
Almoayyed Computers
APM Terminals
Aramex
Asry
Bahrain Airport Company (BAC)
Bahrain Airport Services (BAS)
Bahrain Business Incubation Centre
Bahrain Development bank
Bahrain Financial Company (BFC)
Bahrain Flour Mills Company
Bahrain International Circuit
Balexco
Bapco
Benefit
BNP Paribas
Central Information Organisation (CIO)
Computer Troubleshooters
Computer world
Condor Technology
Electricity and Water Authority
Foulath
Garmco
General Organisation of sea Ports
Golden Tulip
GPIC
Gulf Agency Company
Gulf Air
Hidd Power Company
Investate
LightSpeed
Midal Cables
NIIT
Oil Spill Response
Scandinavian Avionics A/S
Siemens
Supreme Council for Environment
T-Linx
Tamkeen
TRANSWORLD
Urth Social
Zain
Work Integrated Learning
As one of the Kingdom's key education reform projects, designed to deliver work ready graduates, it is essential that Bahrain Polytechnic develops strong productive alliances with all key stakeholders, as the Polytechnic begin this journey to better meet local and regional labour market needs, as partners. The learning environment is conducive to expanding the student experiences and knowledge through formal and informal learning. A key factor in the achievement of high levels of academic success for the Polytechnic students will be the contribution to their learning provided by a well-developed and challenging experiential/workplace programme, which complements their classroom learning. Work integrated learning is an important aspect of education that Bahrain Polytechnic offers. The work integrated learning consists of the following elements which contribute towards intensifying students' learning:
Curriculum Advisory Committees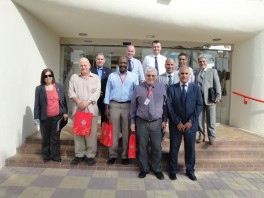 In many countries, a network of industry training boards (or similar organisations) set minimum standards and criteria for education and training programmes in their areas, and they also provide recognition through accreditation to the providers whose programmes meet these. In the absence of such industry training organisations in Bahrain, Bahrain Polytechnic has established a separate Curriculum Advisory Committee (CAC) for each programme. The networking of CACs with faculty staff members ensures an effective interface with the Public & Private sector and future employers of the graduates. It is vital to have input from CAC industry members to the ongoing development of the curriculum, ensuring that graduates have the appropriate knowledge and skills to meet the needs of employers. The role of the CAC is to advise, assist, support, and advocate the technical/occupational curriculum.  Advisory committees can provide input into specifications for a curriculum and help to ensure the quality of programme graduates.  They can offer suggestions for improvements that will help the programme grow and expand.
At the Bahrain Polytechnic, Curriculum Advisory Committees (CAC) assist with:
Curriculum development and reviews
Ensuring the provision of authentic learning experiences that are relevant
Work placements
Practical experience that prepares students to become work ready graduates
Bahrain Polytechnic will continue to establish strong relationships with key stakeholders to ensure that the programmes are designed to be relevant to the needs of the workplace, responsive to changes in technology and reflective of the realities of the labour market, inclusive of its rapidly changing technological needs
Bahrain Polytechnic programmes focus on the following areas of high strategic relevance to the growth and diversification of Bahrain's economy:
English language
Foundation studies
Engineering
Transport, freight and logistics
Information and Communications Technology (ICT)
Business and tourism
Design
Graduates Recruitment Event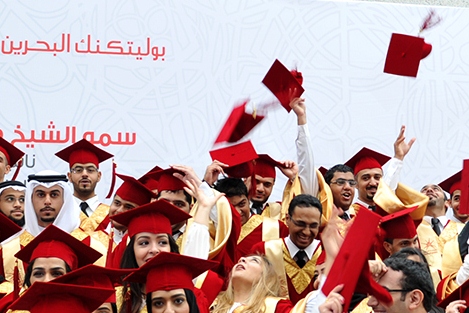 Bahrain Polytechnic offers graduating students the opportunity to market themselves in front of numerous employers from various industries in order to be noticed and get employment opportunities. The graduates have a few minutes to present themselves on stage in front of many Human Resource managers and hiring companies on why they should work at their company. These graduates are also given the opportunity to network with professionals and get their individual interviews during the event. This service is offered by the Career Employment Centre.