Academic Advising and Mentoring service is an integral part of students' life at Bahrain Polytechnic. Advisors support and encourage students in their academic and personal growth.
Every student is assigned an advisor/mentor at the start of the academic year. They meet regularly with students to monitor their attendance, review their progress, advise on class schedules and assist with decision making in the students' academic journey
The student can reach out to share any issues, concerns, and ideas to improve and build on their learning experience. Advisors will refer students to the other support services as needed, including the confidential Counselling services available.
Bahrain Polytechnic believes that strong support helps develop students into independent learners, leaders and members of society through establishing relationships where students feel comfortable to seek guidance and support as needed.
Aim of Academic Advising and Mentoring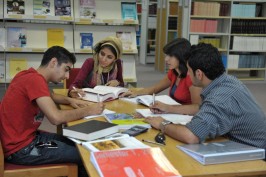 The aim of the Academic Advising and Mentoring Service is to provide comprehensive guidance and support to our students throughout their academic journey. We are committed to assisting students in achieving their academic goals and maximizing their potential. Our dedicated team of advisors and mentors are here to offer personalized guidance, helping students make informed decisions regarding their course selection, academic planning, and personal growth. We strive to foster a positive and supportive relationship with each student, offering a safe space for open and honest discussions about academic challenges, aspirations, and personal development. Through regular interactions and proactive mentoring, our aim is to empower students with the necessary resources, skills, and strategies to overcome obstacles, grow academically and personally, and ultimately succeed in their chosen fields. We believe that every student has unique strengths and talents, and our aim is to help them harness these qualities to thrive in their academic pursuits, and beyond.
The purpose of the Academic Advising and Mentoring Service is to enhance students' academic success, personal growth, and overall satisfaction during their study journey. By providing comprehensive guidance and support, the service aims to help students achieve their full potential and thrive academically and personally.