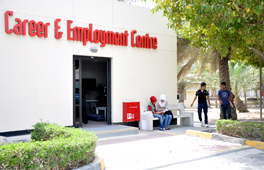 Career development in the 21st century is defined as the process of managing life, learning and work over the whole lifespan. Because the labour market is constantly changing, students need to learn how to choose, develop and manage their career.
The Career and Employment Centre at Bahrain Polytechnic is a unit that helps students make career and learning choices and helps them gain the knowledge, skills, attitudes and behaviours to effectively manage their career. As a Bahrain Polytechnic student you can use the Career and Employment Centre for making decisions, for planning, for support and for information at any time during your studies. Furthermore, the Career & Employment Centre works closely with industry partners to provide students and graduates with internships, part time and full time and opportunities in Bahrain and around the world.
Career and Employment Centre Roles and Responsibilities:
Providing careers advice and information services to meet the needs of the Polytechnic community
Preparing students for workplace learning and decision making
Providing access to labour market information
Assessing the need for, and responding to, graduate development programs
Providing group workshops and individual career counselling sessions for students and alumni
Helping students and alumni with finding, using and evaluating information for their career planning
Providing students with academic advice in consultation with Faculty Academic advisors
Helping students and alumni in their search for work opportunities and training prospects (summer, Part-time, permanent employment post graduation)
Providing training for students and alumni in how to write CVs and application letters and how to succeed in interviews
Organizing events to promote career development awareness as well as sharing opportunities with students
Providing equitable access to career development resources and relevant tools and systems
Exploring and implementing innovations and technological advances that increase information access to career relevant online data
Evaluating the services to students and faculties, to continuously improve services
Ways we can help you
Services
Career groups
Self-help services and computer-aided guidance
Workshops and training sessions
Preparation for co-operative education and work-integrated learning
Guest speakers from industry and government
Summer and part-time vacancies
Scholarship information
Employment information
Graduate information
CV writing
Job search coaching
Job application support
Career events
On-campus recruiting
Employment and Employability

Bahrain Polytechnic's concern does not finish when students complete their studies. It also extends to its graduates. The Polytechnic conducts periodic phone surveys to monitor graduates' achievements with regard to their employment. Bahrain Polytechnic has followed this practice since it had its first batch of graduates and results to date are very encouraging. Our Career and Employment Centre continues to help our graduates in the process of obtaining employment.
Employability Skills
Bahrain Polytechnic missioned to prepare its graduates to be work ready in order to adapt to the economic dynamics of the local, regional and international market. We used the conceptual approach to define Employability at the institution and created a contextualized Employability framework. The position of the learners in the framework indicates the acknowledgment of the institution of the services that rotate around them.
Graduates Recruitment Event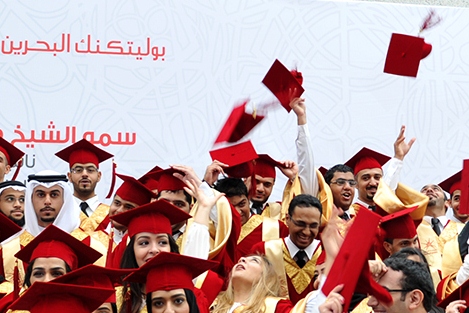 Bahrain Polytechnic offers graduating students the opportunity to market themselves in front of numerous employers from various industries in order to be noticed and get employment opportunities. The graduates have a few minutes to present themselves on stage in front of many Human Resource managers and hiring companies on why they should work at their company. These graduates are also given the opportunity to network with professionals and get their individual interviews during the event. This service is offered by the Career Employment Centre.
Useful Links and Resources
Links: Self Assessment
Links: Occupational Information
Links:Job search engines

Links: Labour Market in Bahrain