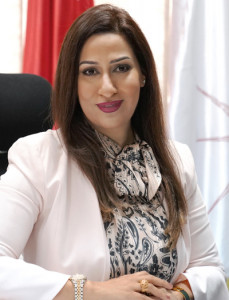 Dr Reem Ahmed Al Buainain
Acting Chief Executive Officer
Dr Reem Al Buainain is the Acting CEO at Bahrain Polytechnic. Dr Reem Al Buainain holds a PHD in Quality Management in Higher Education from the University of Southampton.
At a professional level, Dr Reem Al Buainain was the Director: Quality, Measurement & Analysis and Planning at Bahrain Polytechnic. Prior to this Dr Reem was the Chief of Academic Accreditation Standards and Licensing at the Secretariat General of the Higher Education Council.
Dr Reem is also a member of many organizations; she is a Member of the Higher National committee established by Prime minister- Academic Accreditation Committee. She was a Board member representing Bahrain in "Gulf quality and accreditation  Network". The Board is responsible for GCC quality assurance and accreditation agency establishment. Dr Reem is an Approved Qualifications Evaluator and expert in Academic Accreditation and Higher Education Institutions international Ranking, institutional listing and courses placement. She Conducts and Participates in many assessment for higher educational institutions.