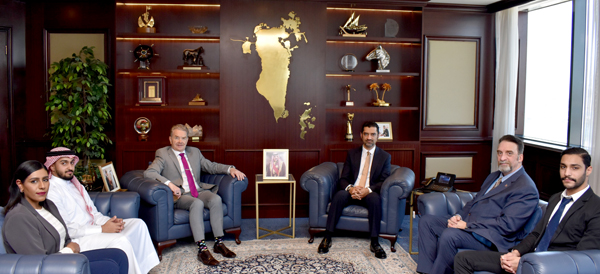 Bahrain Polytechnic's Chairman of the Board of Trustees, His Excellency Eng. Wael bin Nasser Al-Mubarak, and CEO of Bahrain Polytechnic, Professor Ciarán Ó Catháin, received three Polytechnic graduates who have been awarded a scholarship by APM Terminals Bahrain to study at South Shield Marine School in the UK for three years.
During the meeting, His Excellency the Minister congratulated the graduates from the Bachelor of International Logistics Management: Osama Debwan, Omar Wahdan and Mashael Khalaf. The three graduates were nominated for the scholarship out of more than 130 applications for the scholarship programme. The Minister also congratulated the Polytechnic graduate Mashael Khalaf, as one of the first Bahraini woman to embark on her path to serve as a sea captain. He expressed his pride in the graduates, adding that this scholarship is a great opportunity to develop their skills in the field of logistics, where it will contribute to Bahrain's logistics sector and Bahrain's 2030 Vision.
The graduates expressed their appreciation to the Chairman for this generous gesture, stressing that the scholarship is a great opportunity to hone their skills and competencies in the maritime sector, and have the potential to become this sector's future leaders in the Kingdom.
Posted on

25 July, 2022

in News