Programme Length
3 Semesters (Full-Time) plus 1 semester of industrial work-placement – 190 credits
Programme Entry Requirements
Applicants must achieve the minimum requirements in the English and Mathematics entry tests OR passing Maths and English courses in the Foundation programme.
Course Fees
Apply Now
Introduction and Programme Aims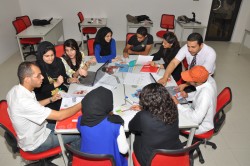 The Diploma in Engineering Technology (DEngTech) program is a technically strong qualification that aims to provide qualified graduates to meet the industry needs locally, regionally and internationally. The qualification provides a wide base of petroleum and process plants operations and maintenance related knowledge and skills upon which graduates can build to reflect on the wide range of similar fields and industries locally and regionally. There is emphasis on industrial and petroleum processes, engineering practices, fluid mechanics and maintenance of hydraulic systems, material science, oil and gas separation, well drilling, process instrumentation, monitoring techniques, H&S at workplace  environment, sustainability to suit not only the refinery but also the petrochemical, aluminum and manufacturing industries as well.
Students gain advanced theoretical knowledge and specialist practical skills in the areas of Mechanics (Static and Dynamic), workshop practice, material science, manufacturing process, energy and sustainability, health and safety, instrumentation, engineering ethics, industrial practices and plants' operation and processes. Students are introduced to software packages for 3-Dimensional modelling software as well. SolidWorks is integrated and used extensively throughout the programme.
The aim of this qualification is to provide students with the knowledge, comprehensive set of skills, abilities and attributes for employment in the petroleum and plant processing sector as operators.
The applied focus of this award combines the necessary blend of core competencies and the understanding of key petroleum and industrial processing-related technological principles and their applications in a safety and environmentally critical context.