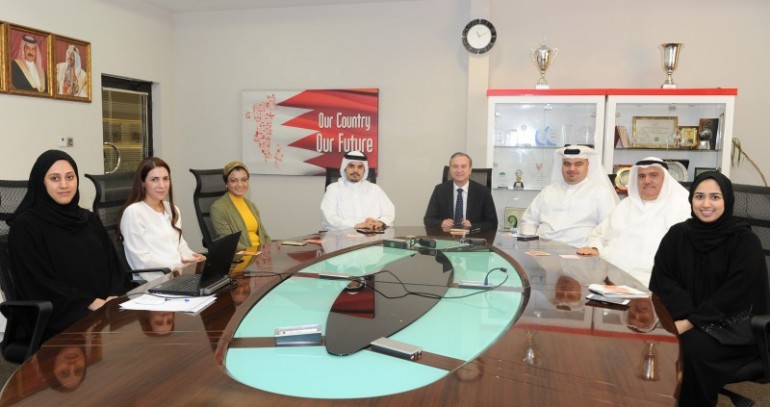 Bahrain Polytechnic's Equal Opportunities Committee held a meeting, led by CEO Dr. Jeff Zabudsky, where a number of discussions took place in regards to women empowerment.
One discussion included the participation in the Princess Sabeeka Bint Ibrahim Al Khalifa Global Award for Women Empowerment, and the Polytechnic has been in constant contact with the Supreme Council for Women in order to integrate the needs of women in the framework of equal opportunities in all areas of work of the Polytechnic.
The committee also referred to the visit of three students from the Bahrain Polytechnic Student Council (BPSC) to the Supreme Council for Women to conduct interviews related to the celebration of Bahrain Women's Day 2018.
The committee has been established to comply with the instructions of the Civil Service Bureau No. (4) for the year 2014, indicating that all government entities must establish equal opportunity committees to its employees.
Sh. Ali bin Abdulrahman Al Khalifa, Deputy CEO of Resources & Information Affairs, stated that the Polytechnic firmly believes the role of women, their importance of empowering them, and enhancing their role and position in the institution and society as a whole. He stressed that the Polytechnic's committee is keen to provide its support in promote Bahraini women in general, including their staff.
Sh. Ali Al Khalifa stated that the decision to establish this committee came in recognition of the role of the Supreme Council for Women, headed by Her Royal Highness, Princess Sabeeka Bint Ibrahim Al Khalifa, which contributed to the promotion of Bahraini women's status on a local, regional, and international level through her support in various areas of work.
Dr. Zabudsky expressed his thanks and appreciation to the members of the committee for their efforts in providing the Polytechnic with suggestions and information which were taken into consideration ever since its establishment. He stressed that the Polytechnic continues to apply the principles of equal opportunities and integrate the needs and empowerment of working Bahraini women.
Posted on

3 July, 2018

in News