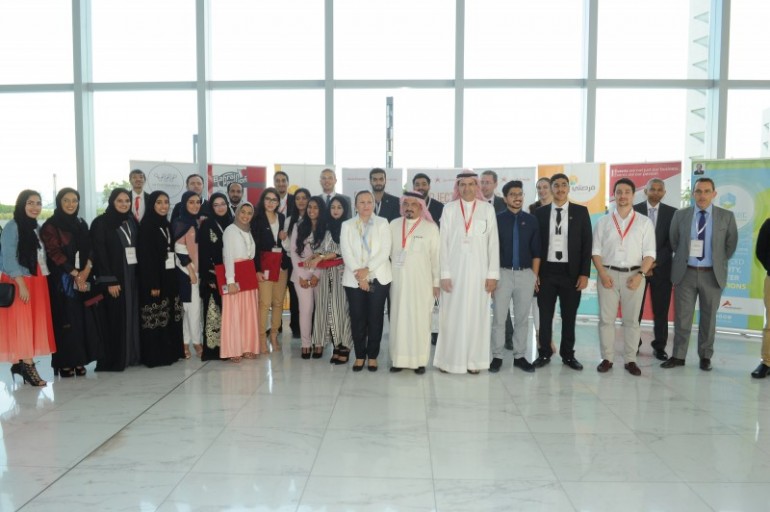 In collaboration with Bahrain FinTech Bay (BFB), Bahrain Polytechnic held the ICT Project Exhibition on 28th June, 2018 at the Arcapita headquarters.
Bahrain Polytechnic is BFB's first collaboration with an academic institution on innovation.
Dr. Jeff Zabudsky, Bahrain Polytechnic's CEO, stated: "We are proud to say that Bahrain Polytechnic conducts many initiatives in various fields, especially when it comes to motivating students to innovate and demonstrate their talents. This will eventually lead to economic growth and achieving the goals of Bahrain Polytechnic and Bahrain 2030 Vision.
"Additionally, this will be an opportunity to engage ICT students, faculty, and graduates to be part of BFB's ecosystem, which in turn will promote the exhibition to its partners to participate with our students' projects.
"This exhibition is of great importance since it enables our students to showcase their projects to our partners in various sectors and gives them employment opportunities.
"I would like to thank BFB, our sponsors, participants, and partners for attending this event, sharing their views on the projects, and supporting our students. I would also like to thank all members of the Polytechnic, from academic to administrative staff, for organizing this event in an efficient manner." concluded Dr. Zabudsky.
Hadyah Fathalla, Executive Director of C5 Accelerate, stated: "We're very impressed with the quality of the students projects showcased today. This is the second time that we support the School of ICT and Web Media project exhibition and we look forward to continue working closely with Bahrain Polytechnic to ensure engaging academia in the ICT community and to provide the students with platforms to grow and learn outside of their schools, through the Cloud10 Scalerator Program, or our women in tech initiative, Nebula, or any of the C5 Accelerate initiatives."
Khalid Saad, CEO of FinTech Bay, stated: "We are delighted to be hosting the first Polytechnic ICT Exhibition outside of the Polytechnic's campus. This is a great opportunity for students to showcase their industry projects to a wide audience and seek advice on how to potentially commercialize these. Bahrain FinTech Bay is committed to supporting students and the Polytechnic's innovation-related initiative."
The projects that were demonstrated to the audience on the day were developed at the Polytechnic Innovation Lab as part of the first semester of the student's final year IT Project course, in which students undertake the development with academic support. There were also projects developed as part of the final semester in one of three tracks; research at the Polytechnic Innovation Lab, CLP Work-placements at industry premises, and Entrepreneurship at an Incubator.
This semester, four projects were awarded as follows:
| | | |
| --- | --- | --- |
| Student Name | Project of the Year Award Category | Project Title |
| Ali Qattan | IT ProjectSoftware | PolyVent |
| Fatema Hasan | Cooperation Learning ProjectProgramming and Database Systems | Claim Processing Mobile App |
| Jumana Darwish | Cooperation Learning ProjectMIS and Networking | Client Management System |
| Walaa Radhi | Cooperation Learning ProjectEmployability Skills | Industry Portal V2 |
Raghda Zahran, Event Organizer, commented: "Bahrain Polytechnic aims to enable students to work on real projects which follows certain academic standards and equip them with the necessary skills needed to enhance their knowledge in ICT and entrepreneurship."
The ICT Project Exhibition is held every semester.
Posted on 2 July, 2018 in News