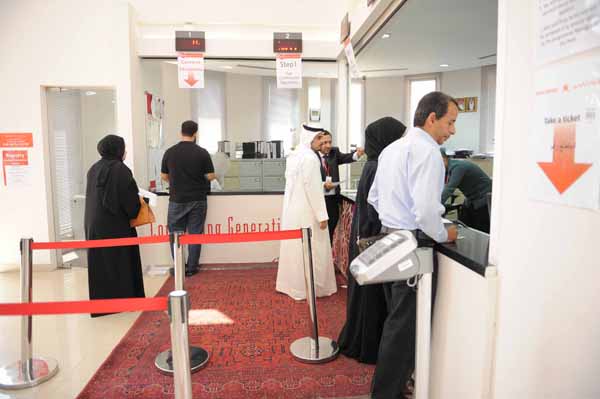 Sh. Ali bin Abdulrahman Al Khalifa, Deputy CEO of Resources & Information Affairs, inspected the process of admitting students for the next Academic Year 2015-2016, which began on 26th July and will continue until 13th August.
Sh. Ali Al Khalifa met a number of admitted students and parents during the admission process; asking them about the ease of the process such as the payment, receiving the Polytechnic's ID card, and the Polytechnic website.
Parents and students praised the one-stop service; a service which shortened the time of registration process at the Polytechnic. Additionally, they also praised the website for containing accurate information, such as detailed programmes and a detailed explanation of the admission process.
During the inspection, Ms. Catherine Walker, Acting Registrar, confirmed that more than 290 students have admitted to the Polytechnic during the first of the registration period. She urged the remaining students to confirm their offer during this [acceptance] period to avoid losing their seat to students who are admitted on the waiting list.
Dr. Mohamed Al Aseeri, Acting CEO, congratulated the new students for joining Bahrain Polytechnic and wishes them success, including the applicants which were not fortunate enough to be accepted. He asked the students to make their way to Building 8 to confirm their offers before the acceptance period ends at 13th August, open from 9 AM – 2 PM, with a copy of their letter of acceptance, CPR card, additional acceptance documents (if any).A tuition fee of BD 120 must a paid for Bahraini students, and BD 2520 to non-Bahraini students (both non-refundable).
Dr. Al Aseeri also stressed that students under the age of 18 must be accompanied by their parents to complete admission process. Should the accepted student be outside of Bahrain, then they should confirm by responding to the email sent to them by the Polytechnic, as well as ask a family member or relative to pay the fee in order to reserve the seat. The student must then personally visit the Polytechnic to sign the documents no later than 6th September.
Students on the waiting list will be contacted depending on the availability of vacant seats in the programme they have chosen, and will be informed of the availability on 13th August.
Orientation Day for new students will begin from 31st August to 3rd September, and its presence is mandatory, as the Academic Year officially starts on 6th September 2015.
Posted on

10 August, 2015

in News