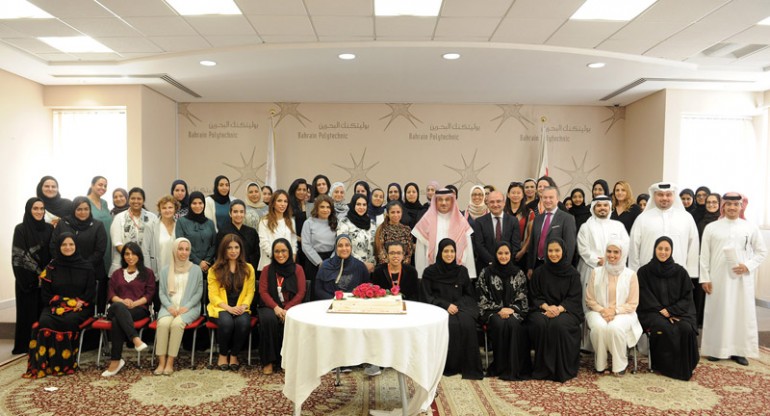 Held under the patronage of Dr. Mohamed Al Aseeri, Acting CEO, the Polytechnic celebrated the Bahraini Women's Day on 1st December 2016 at the campus in Isa Town in an audience consisting of management, guests and academics.
A short speech was delivered by Bahrain Polytechnic Commercial and Community Initiatives Acting Manager, Sh. Fay Al Khalifa where she congratulated Her Royal Highness Princess Sabeeka Bint Ibrahim Al Khalifa wife of His Majesty the King, President of The Supreme Council for Women on behalf of Bahrain Polytechnic Board of Trustees and the Executive Management on this occasion and praised the role played by her royal highness in empowering Bahraini Women and enhancing their role in various aspects of life in the kingdom.
Dr. Al Aseeri commented: "Today, we salute all Bahraini women who have contributed to building and elevating the Kingdom of Bahrain to a high level. It is a great moment for all of us, as Bahraini women are a part of our daily lives, and a part of our Islamic teachings and values, and according to Bahrain's laws and regulations. This is a special day, as we learn many lessons annually by focusing on the role of Bahraini women in a specific sector, to shed light on [women's] role and to take pride."
In conclusion, Dr. Al Aseeri awarded the female staff of Bahrain Polytechnic Legal Affairs for their efforts throughout the year.
Posted on

14 December, 2016

in News