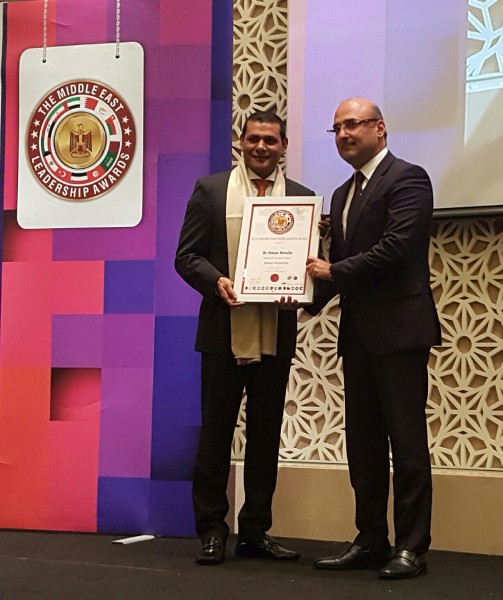 Bahrain Polytechnic's Deputy CEO of Academic Services, Dr. Hasan Almulla, received the Middle East Education Leadership Award during the Asian Leadership Awards in Dubai, United Arab Emirates on Wednesday, 5th October 2016.
A jury, consisting of experts and specialists in the field of higher education, selected Dr. Almulla among a group of academic leaders in the Middle East who accomplished many achievements in their communities and made qualitative changes in the academic field which they currently implement in their business model.
The award aims to promote the building of effective leadership in the educational and industrial field in order to motivate leaders to continue their outstanding performance and innovation.
On this occasion, Dr. Almulla expressed his appreciation to His Majesty King Hamad bin Isa Al Khalifa, King of Bahrain, His Royal Highness Prince Khalifa bin Salman Al Khalifa, Prime Minister of Bahrain and His Royal Highness Prince Salman bin Hamad Al Khalifa, the Crown Prince, Deputy Supreme Commander and First Deputy Prime Minister for their support to enhance education and Bahraini academic skills. Dr. Almulla pointed out that receiving this award, made on behalf of the Kingdom of Bahrain, is the result of constant attention and care given by the Kingdom to the educational sector.
Dr. Almulla also thanked the Board of Trustees of the Polytechnic and the executive management, headed by Dr. Mohamed Al Aseeri, for their continued support to the development of education at the Polytechnic, elevating its name to a global level in a relatively short time.
Dr. Almulla said that this international award will motivate him to achieve more accomplishments that contribute to the development of education in the Kingdom, as well as achieve more cooperation between the education sector and the labor sector, including stimulating applied scientific research.
Posted on

13 October, 2016

in News