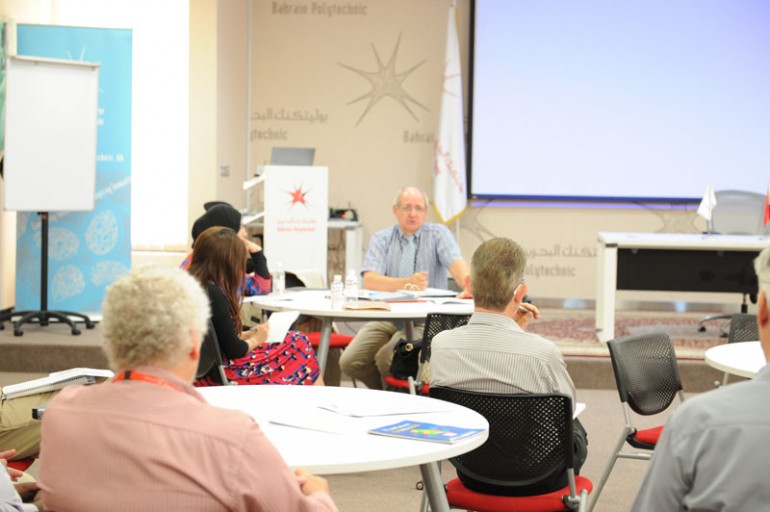 The Bahrain Polytechnic Business School has worked with ACK Solutions to develop a strategic positioning plan based on the results of an in-depth marketing analysis of Bahrain businesses and students. The outcomes of this report were presented on May 7th to faculty and students and another presentation is planned for the Board of Trustees and senior managers.
For the past three years the Business School has worked with ACK Solutions on several projects to ensure any programme development meets the needs of the Bahrain business community. ACK has employed Business School senior students to complete desk based research and collate results allowing students an opportunity to gain real work based skills.
"All of our projects with ACK have allowed us to ensure we are providing the best quality higher business education that meets the needs of businesses in the Kingdom of Bahrain and of our students." stated Alison Reynolds, Bahrain Polytechnic's Head of the Business School.
"One of the educational qualities we are enhancing on is minimizing the gap between theory and practical work. Having said that, we've let our students get involved in the research.
"We make it our priority to find new ways to increase the quality of learning in Bahrain Polytechnic, as according to the Economic Vision 2030 and the governments 2011-2014 program." concluded Ms. Reynolds.
The presentation, led by Managing Director Ahmed Al-Akbar and Consultant Casey Piquette, provided an excellent overview of Bahrain Polytechnic Business Schools current strategic position and recommendations of ways to continue to promote academic and business excellence.
Ahmed Al-Akbar stated: "We are happy that ACK Solutions has been a part of Bahrain Polytechnic Business Schools successful development. The Business School makes it a priority to continuously adapt to local and regional industry needs. The results of these efforts can be seen in the success of the project."
ACK Solutions provide marketing consultancy for service-oriented firms, focusing on serving companies on how to attract and retain customers. They offer a wide variety of services ranging from Market & Sales strategy to Employee Engagement programs.
Posted on

7 May, 2013

in News