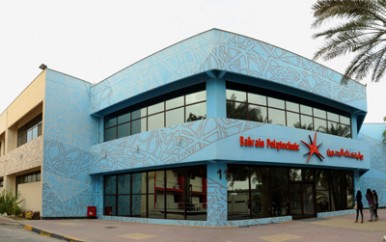 The "Oil and Gas Year" magazine selected and awarded Bahrain Polytechnic as the educational institution, for the year 2013, to produce graduates ready to engage in the oil and gas sector, specifically, immediately after graduation. The ceremony was held by the publishers of the magazine in collaboration with the Ministry of Water and Electricity and the National Oil and Gas on May 16th 2013 at the Gulf Hotel.
Now celebrating the occasion of their fourth publication known as "Bahrain 2013", the ceremony was held under the patronage of the Minister of Electricity and Water, Hussain Ali Mirza, including several active figures in the field of oil and gas in the Kingdom of Bahrain.
The "Oil and Gas Year" magazine publishes a series of publications which specializes in providing comprehensive information regarding energy and markets around the world. A vast number of interviews were taken for this year's edition, exclusively with a number of executives in several industries such as banks, consultancy and academics regarding the current state of the energy industry in the Kingdom of Bahrain. Within the interviews taken was with Dr. Mohamed Ebrahim Al-Aseeri, Acting Chief Executive Officer of Bahrain Polytechnic, and Dr. Hasan Almulla, Deputy CEO for Academic Affairs.
Dr. Mohamed Al-Aseeri went on behalf of the Board of Trustees of the Polytechnic, accompanied by Shaikh Hisham bin Abdulaziz Al Khalifa and all the members of the Polytechnic, to give sincere thanks and appreciation for the selection of Bahrain Polytechnic for the honorable award, and expressed: "This award is only the fruit of the efforts based on the Polytechnic and its staff, confirming their tireless efforts that seek to keep pace with the needs of the labor market and provide it with students skilled in their field, while in partnership with industries in various orientations, particularly oil and gas sector, which is the backbone of the economy in the Kingdom, noting that it is expected to come out the Polytechnic of the first batch of students at the end of the current academic year, and among the alumni campaign bachelor's degree in engineering technology, who are in no doubt well groomed and ready to work in the oil and gas sector. Additionally, these efforts all come to meet the requirements of the government's 2011 – 2014 program, along with the Kingdom of Bahrain's Vision 2030."
Posted on 22 May, 2013 in News