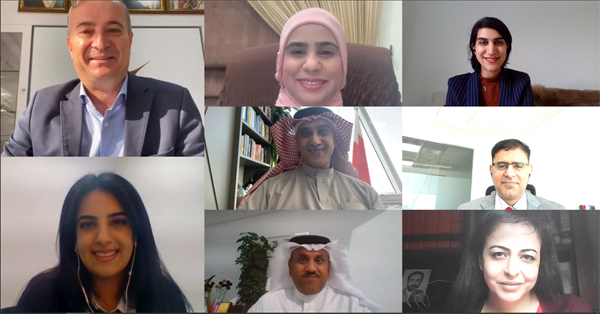 Bahrain Polytechnic signed a Memorandum of Understanding with the Bahrain Institute of Public Administration (BIPA) with an aim to develop staff capabilities by exchanging experiences and implementing training programs. This signing comes within the framework of the Polytechnic's strategic plan aimed at strengthening cooperation with various local and international educational institutions.
The memorandum of understanding was signed by Bahrain Polytechnic's CEO, Dr. Jeff Zabudsky, and by BIPA's Director General, Dr. Raed bin Mohammad bin Shams, in the presence of officials from both sides.
On this occasion, Dr. Zabudsky stressed the importance of this collaboration with BIPA, as it is one of the leading institutions in the field of training and development in the Kingdom of Bahrain. He added that the collaboration will assist in developing the capabilities of its employees in a way that makes them fulfill the objectives of Bahrain Polytechnic, thus rise to the ranks of international educational institutions.
Dr. Raed Mohammed Bin Shams, the Director General for the Bahrain Institute for Public Administration, (BIPA), stated, that cooperation with academic institutions is a major step towards improving the learning and training capabilities and set up a learning agenda in the Public Administration Science. He highlighted the importance of bolstering the vision of learning in the field of Public Administration, and all that is related to it, from expanding local and regional partnerships and setting up networks between various concerned agencies and stakeholders. Which he said will help in developing the tools and methodologies to upgrade the administrative systems in the Kingdom of Bahrain and will enhance the capability of the public sector and private sector institutions to deal with current and futures challenges.
Dr. Bin Shams also confirmed the joint vision between the two sides in supporting the efforts to develop the Public Administration Science, through the efficient use of scientific research tools as well as knowledge. He explained that the agreement for cooperation between the Institute and Bahrain Polytechnic would contribute in providing a learning and training agenda for the students and create a joint programme for building training capabilities.
The MOU will benefit both parties in terms of providing training and educational services, developing scientific research in various fields, providing practical training for students, and exchanging experiences by providing training courses to private and public sector employees. The Polytechnic and BIPA will also work together to organize events that contribute to education and e-learning. Additionally, both parties will assist in designing training programs to develop institutional leaders and officials in various organizations, and collaborate with experts in the field of education and skill development in specializations of common interests.
Posted on

17 January, 2021

in News