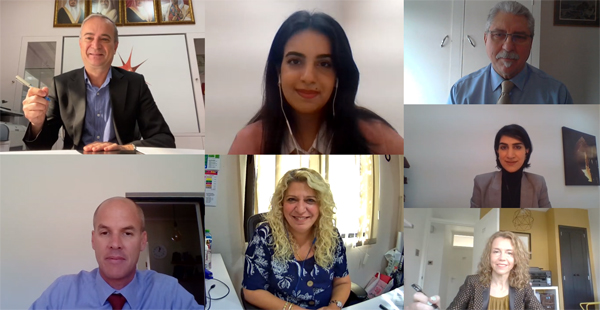 Bahrain Polytechnic has signed a Memorandum of Understanding to discuss cooperation opportunities with Practeria Ltd.; an international company that includes experts in engineering, education technology and management consulting, based in the United Kingdom. The memorandum was signed by the CEO of Bahrain Polytechnic, Dr. Jeff Zabudsky, and CEO of Practeria, Ms. Magdalena Riley.
The two parties intend to cooperate and coordinate the implementation of relevant, scalable, and sustainable digital solutions for technical skills training, which will build up readiness of the engineering students for the current and future challenges of the key Bahraini industrial sectors. In addition, both parties will aim to design and implement a blended learning strategy for engineering disciplines and will work on a strategic plan for the necessary skills of the future Bahraini engineering workforce based on the trends driven by 4th Industrial Revolution and it is 9 technology pillars.
The Polytechnic and Practeria Ltd. will work on exchanging experts for the purpose of designing specialized training content and contextualizing courses to fit the unique Bahraini culture and environment. This will include upskilling local trainers to undertake the implementation of these courses.
Additionally, they will work towards supplementing current engineering courses with Industry 4.0 topics to future proof our offering. They will develop cooperative projects as well as on – the – job training programs for Polytechnic students. They will also develop arrangements for the provision of guest speakers at the Polytechnic and participate in the development of industry specific case studies and projects for inclusion in problem-based curriculum.
On this occasion, the CEO of Polytechnic, Dr. Jeff Zabudsky, said: "The Polytechnic is pleased to sign this agreement with Practeria, which is an important step in providing new opportunities for training our students in areas required by the labor market. As a result, this will benefit the national economy as it raises the competencies within the Kingdom to allow the labor market to assume responsibilities in various fields, which is in line with our strategic plan and Bahrain's 2030 vision."
He stressed that the Polytechnic is constantly working to develop the skills of its students through the application of a learning system based on problem solving in its studies, and to ensure that applied work is integrated into the curriculum through cooperation with various local and international companies to gain practical experience that prepares them for the real practical environment prior to their graduation.
On this occasion, Ms. Magdalena Riley, CEO of Practeria stated: "According to the latest World Economic Forum report on the future of jobs, by 2025 approximately, 97 million new jobs will emerge that are more adapted to the new division of labour between human, machines and algorithms. Engineers, doctors, or teachers working alongside 'cobots' and using Artificial Intelligence (AI) for making better decisions, this is not a vision of the future but a reality. Practeria is delighted to be invited to the table to shape this reality together with Bahrain Polytechnic and its industry partners. With our passion for skills development and utilising the latest blended learning approaches and technologies, Practeria believes it will add real value to the Bahrain Polytechnic's offering. "
Posted on 31 January, 2021 in News