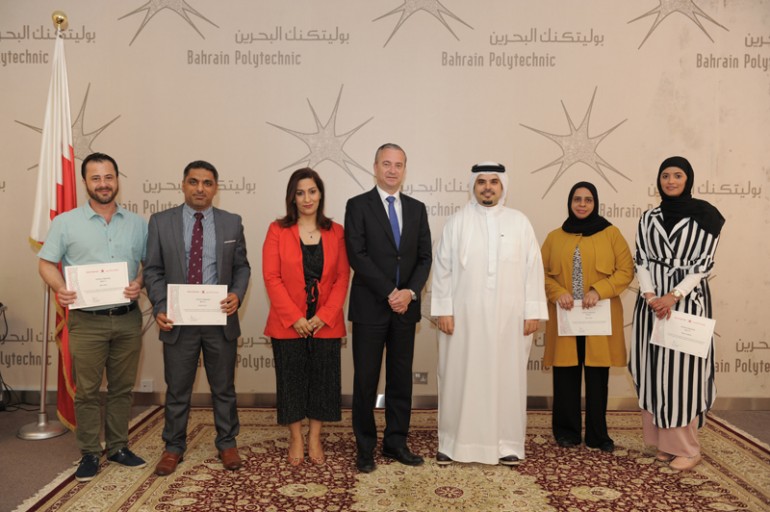 Coinciding with the 10th anniversary celebrations, Bahrain Polytechnic has launched its mobile application on Tuesday, March 6th, for both Apple and Android devices. Available through the "Apple Store" and "Google Play", the Polytechnic's new application offers users a variety of streamlined services and features that aim to enhance their experience at the Polytechnic, and benefit the public, parents, enrolled and prospective students, faculty, and staff.
The application offers a wealth of current information about the Polytechnic. It enables the students to view their class schedules and grades, attendance record, academic key dates and timeline. The application delivers the latest news and events and provides access to the online directory to search for students, faculty, staff.
Commenting on the mobile application's launch, Dr. Jeff Zabudsky, CEO of Bahrain Polytechnic, stated: "It's extremely fitting that we celebrate the 10th anniversary year with the launch of our new mobile application which was modeled and benchmarked against its top performing counterparts from universities across the region, thereby ensuring a smooth and unique experience to its users".
He added: "The Polytechnic's mobile application is part of a comprehensive plan that the we are implementing to upgrade and enhance facilities, services, and on-campus infrastructure to provide a positive educational experience for our students."
During the official launch event, staff were awarded for their contribution in developing the application: Dr. Reem AlBuainain, Khalid Sharif, Ali Hassan, Amer Bittar, Manar Al Seddiqi, and Noora Aleid.
Posted on

22 March, 2018

in News