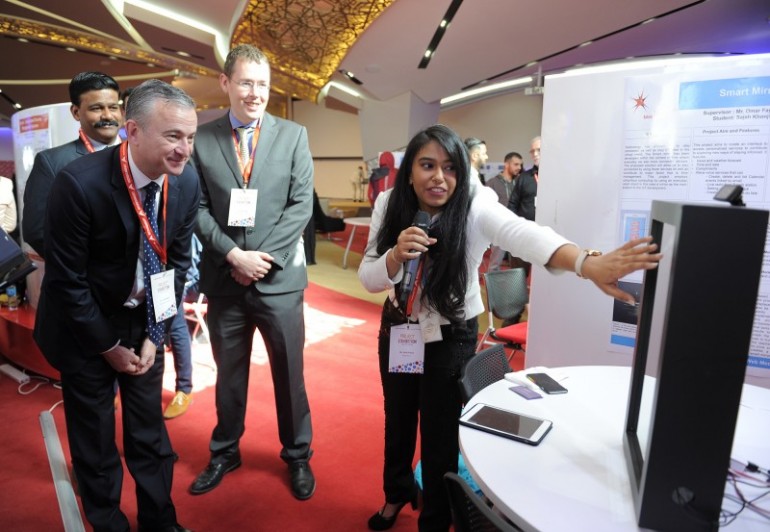 On 17th January 2018, Bahrain Polytechnic's School of ICT & Web Media hosted the 10th Project Exhibition. This semester, senior students presented more than fifty projects ranging from mobile applications and virtual reality to systems infrastructure and cloud-based solutions.
Students worked either at the Bahrain Polytechnic Innovation Lab, Bahrain Polytechnic Multimedia Lab, or Cooperative Learning Project (CLP) at Industry Partners. Students were placed in private and public sectors at organizations with local, regional, and international presence including Bahrain Airport Company, Nass Group, Kuwait Finance House, Azimuth, Silah Gulf, Royal Diwan, Civil Aviation Affairs – Meteorological Directorate, Ministry of Youth and Sports, and Elephant Social Media, and HUAWEI.
The projects were evaluated by industry partners presented by Mr. Mohammed Abdul Aziz, Information and Electronic Government Authority; Mr. Mohamed Adel Abu Hassan, Ministry of Works, Municipalities, Affairs, and Urban Planning; Ms. Pakiza Abdulrahman, Bahrain Economic Development Board; Mr. Fabio R. Caetano, Ericsson; and Mr. Hussain Hameed, Ericsson; Mr. Ammar Ali, Maroonfrog; and Mr. Ravi Jayasundera, Sysprove Consulting.
The exhibition inaugurated with a tour around the projects where students pitched their final products. Dr. Jeff Zabudsky, Bahrain Polytechnic's CEO, and Dr. James Egan, Head of School ICT & Web Media, led the tour along the Exhibition Partners including Mr. Ahmed Al Hujairy, Gulf Future Business CEO; Ms. Sumaya Adel, Batelco; Mr. Feras Al Saadi – NGN International-Training Center, Ms. Pakiza Abdulrahman, Startup Bahrain; and representatives from Tamkeen.
Dr. Jeff Zabudsky presented tokens of appreciation to the industry partners and evaluators thanking them for their commitment to supporting the Polytechnic and its students. The program included a debate on 'Capstone Projects' Intellectual Property presented by Mrs. Raghda Zahran, Programme Manager (MIS) at Bahrain Polytechnic, and Dr. Hanan Al Mawla, Director Legal Clinic at University of Bahrain.
The exhibition concluded by announcing the best projects based on the final demonstration evaluation results and their hard work throughout the semester. The students were awarded with several tokens of appreciations, and valuable awards including guaranteed placements, professional certification programs by Bahrain Polytechnic and the exhibition partners.
| | | |
| --- | --- | --- |
| Category | Student | Project |
| 1. IT Project – Database Systems | Walaa Radhi | Bahrain Polytechnic Industry Portal |
| 2. IT Project – Programming | Amira Tallaq | Escape Room |
| 3. IT Project – Networking | Duaa Darwish | Data Center Monitoring Dashboard |
| 4. IT Project – Management Information Systems | Jumana Darwish | Donate |
| 5. Web Media – Design | Hamad Aljawder | Interactive Space Museum |
| 6. Web Media – Video Production | Maheen Nazir | Website and Infographic Design |
| 7. Web Media – Mobile and Web App | Hawra Alekri | Medication Awareness Videos |
| 8. ICT CLP – Best Employability Skills | Zainab Alhammar | Work-Placement at Azimuth |
| 9. ICT CLP –  Project of the Year | Fatema Muhausien | Work-Placement at Nass Group |
| 10. Best Idea and Elevator Pitch | Fatema Hasan | Pancea Diagnostic Mobile App |
| Public Vote | Sajah Khonji | Smart Mirro |
| Public Vote | Amira Tallaq | Escape Room |
Mrs. Raghda Zahran, BICT Programme Manager (MIS), commented: "The students have demonstrated outstanding work throughout the semester. Their skills, initiative, and motivation have coined innovative solutions which solve business problems. The society serves as an infrastructure for knowledge development as much as the Polytechnic serves as an infrastructure for skilled calibre.
"There is an active collaboration between our academics, students, and partners. We are proud to be part of finding ways to improve the quality of life for businesses and the society in the Kingdom of Bahrain and the GCC Region at large." she concluded.
Bahrain Polytechnic's executive management would like to thank its sponsors for the exhibition: Gulf Future Business and ThinkSmart for Training and Development, Batelco, NGN International-Training Center, and Start-up Bahrain.
Posted on 25 January, 2018 in News