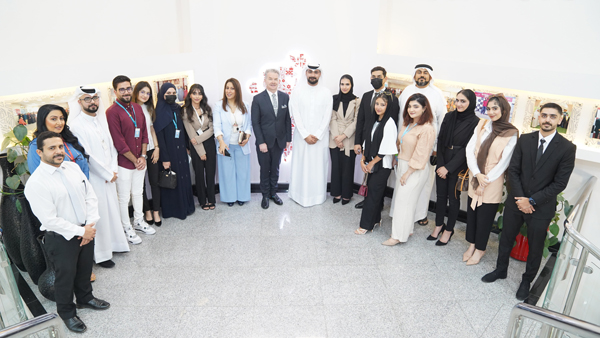 Bahrain Polytechnic's CEO, Professor Ciarán Ó Catháin, has approved the formation of the new Bahrain Polytechnic Student Council (BPSC) for the academic year 2022-2023. The new student council was formed during a meeting which included the new members, where Mohamed Khaled Moosa will take the role of president.
On this occasion, Professor Ó Catháin congratulated the new members of the student council and wished them success in their roles. He stressed the responsibility of the student council, as they will represent the students and promote their interests to in cooperation with the administrative bodies of the Polytechnic. Additionally, they will be conducting various activities and events that will benefit the student body and the Polytechnic.
During the meeting, the Polytechnic CEO expressed his sincere appreciation to the previous student council, which have impressed both students and staff for their efforts in representing the Polytechnic, internally and externally, and wished them all the best in their future endeavors.
In turn, the elected student council president, Mohamed Khaled Moosa, expressed his appreciation to the members of the student council for their confidence in him to take the new role. He added that BPSC will continue their efforts to convey or implement the student's concerns and suggestions to the Polytechnic's administrative bodies.
The remaining administrative positions were distributed as follows: Fatema Mohamed Alabbasi, Vice President; Abeer Ameer Hasan, Secretary; and Zainab Husain Haqiqi, Financial Treasurer.
The committee positions were distributed as follows: Shaker Ali Abdulkarim, Sports Committee Chair; Saif Mohamed Ramadhan, Sports Committee Vice Chair; Mohamed Mustafa Zayer, Art and Culture Committee Chair; Maryam Akbar Wihdat, Art and Culture Committee Vice Chair; Sara Mohamed Salami, Social Committee Chair; Reema Khaled Abdulla, Social Committee Vice Chair; Fatema Husain Ashoor, Student Services Committee Chair; Bushra Abdulmajeed Aseri, Student Services Committee Vice Chair;
Posted on

25 July, 2022

in News