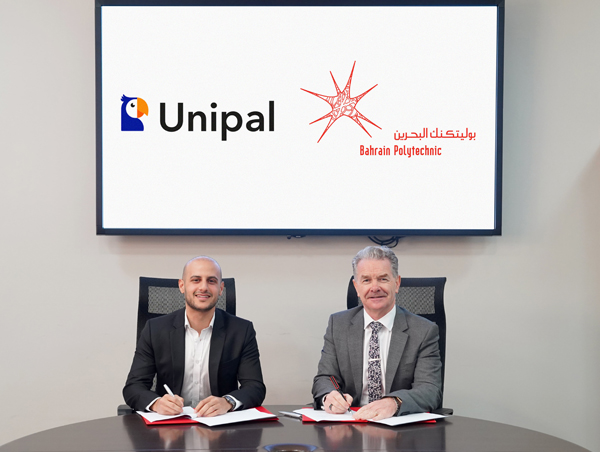 Bahrain Polytechnic recently signed a Memorandum of Understanding (MoU) with Unipal; a Bahraini student-centric platform that focuses on enriching student life and delivering a distinctive university experience.
The MoU was signed between the CEO of Bahrain Polytechnic, Professor Ciarán Ó Catháin, and the CEO of Unipal, Mr. Ali Al Alawi, in the presence of a number of officials from both sides.
Under this MoU, the two parties intend to embark on a mutually beneficial, close working arrangement whereby each will contribute to the success of the other. This will be done by providing student work placements, participating in cooperative projects, internships and job training, exchanging knowledge, experiences and ideas, hosting speakers, and collaborating on research projects and case studies, promoting mutual public relations opportunities.
On this occasion, the CEO of Bahrain Polytechnic, Professor Ciarán Ó Catháin, said: "We are pleased with the opportunity to cooperate with Unipal, as we look forward to providing our students with exclusive offers and discounts offered by the platform. This will also enhance our students' skills and career potential by providing them with job opportunities and practical training at Unipal, which is in line with our strategic plan and Bahrain's 2030 vision."
CEO of Unipal, Ali Al Alawi, commented: "We are delighted to take this remarkable step with the Polytechnic, which is known for its constant push to help students in creative ways beyond academia. We are excited to begin this journey together."
He added: "Our platform provides more than just offers, as we created this platform to completely change the lifestyle of students in Bahrain, and these partnerships will help us achieve our vision and further develop this service in the Kingdom of Bahrain."
The Unipal platform allows students to receive a distinctive university experience by providing them with exclusive offers and discounts, while also addressing their non-academic needs.
Posted on 25 July, 2022 in News