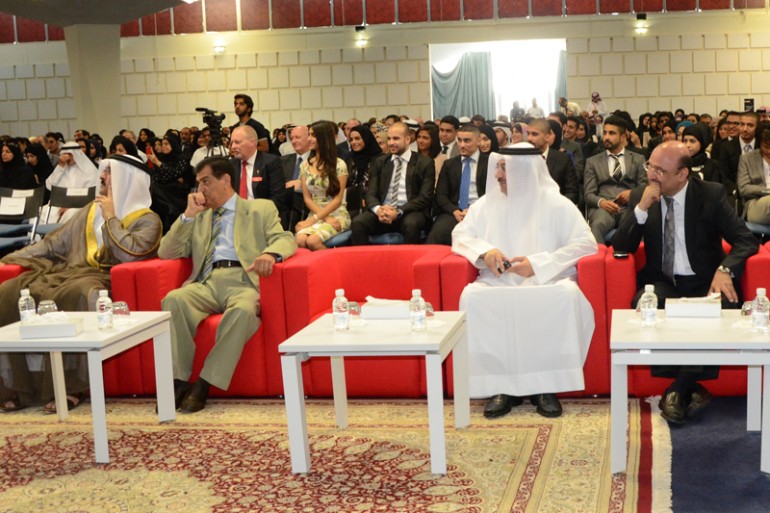 Bahrain Polytechnic awarded 150 Bachelor of International Logistics Management (BILM) students at their campus on 8th July after successfully completing their Chartered Institute of Logistics and Transport (CILT) diploma and certificate qualifications.
Over 300 guests attended the event including the Polytechnic's senior management and students' family members and friends. The ceremony awarded 135 Certificates to first year students in Logistics & Transport and another 15 Diplomas to the second and third year students.
John Webb, Joint Programme Manager of Logistics at Bahrain Polytechnic remarked: "The BILM students [receiving the awards today] have gone through an intense series of internationally moderated examinations in a wide range of transport and logistics courses, pre and post moderated by Dr. David Maunder, one of the CILT representatives."
The CILT representative flew in from London to attend the occasion, and was clearly impressed with the number of students who received the diplomas and certificates, as the regional success rate for these qualifications is around 60 percent of those that attempt the examinations.
Prior to the award ceremony, speeches were given by Sheikh Hisham bin Abdulaziz Al Khalifa, Chairman of the Board for Bahrain Polytechnic followed by Dr. Maunder and Mr. Webb.
The chairman said in the CILT ceremony, hosted for the second time: "Today provides the opportunity to celebrate [the students] achievements and also to recognize the high level of support given by CILT.
"BILM is one of Bahrain Polytechnic's flagship degrees that develop those 'employability skills' essential in equipping future generations with the tools to be successful in not only getting a job, but also in building a creative and competitive economy.
"The CILT qualifications offer a well recognized progression pathway in many universities around the world for those wishing to progress to post-graduate level studies in transport and logistics."
Sheikh Hisham Al Khalifa concluded by adding that Bahrain Polytechnic will host its first graduation ceremony later this year, a major milestone in the history of the government-owned educational institution.
"To those in the final year, best wishes for the final results and I look forward to seeing you at the graduation ceremony, Insha'allah." he concluded.
Bahrain Polytechnic would like to thank CILT for their continuous support and for keeping them in line with Bahrain's 2030 vision.
Posted on

8 July, 2013

in News