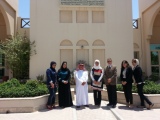 Bahrain Polytechnic Accounting Students presented their final year industry projects to their business mentors from two companies at AlWafa Center and the National NGO Center at the end of June.
Graduating work ready students has always remained a priority for the government educational institution, as two groups of students majoring in Accounting had three months to present their findings to both Bahraini Association for Intellectual Disability & Autism (Al Wafa Center) and Muharraq Communal Society.
"Having industry projects in our degree structure gives Bahrain Polytechnic that distinctive feature in our teaching style. It just goes to show the caliber of students we are trying to produce" remarked Alison Reynolds, Bahrain Polytechnic's Head of Business School.
Each group had a different assignment. One group was tasked to implement an accounting software (which they have studied at the Polytechnic) for AlWafa Center, including training one of their employees to use it.
The group which tended for Muharraq Communal Society was involved in event management duties; planning, organizing and preparing budget plans for a Youth Talents Exhibition.
"The students were really dedicated when doing their final year projects. It's good to take our students out once in a while to witness what they've learnt during class in action." she continued.
Bahrain Polytechnic's CEO Dr. Mohamed Al-Aseeri gave his part on the Polytechnic's path to meet Bahrain's 2030 Vision, a phased development plan that aims to enhance Bahrain's quality of life over the coming years.
"We want to ensure that our students which will graduate later this year have gained the necessary skills to use in the corporate world. We have a good relationship with several top companies in Bahrain and we do it for the benefit of our students; for a better Bahrain in the future."
Dr. Al-Aseeri also expressed his thanks to Muharraq Communal Society, AlWafa Center and the Polytechnic staff for their complete support and cooperation.
Posted on 13 July, 2013 in News