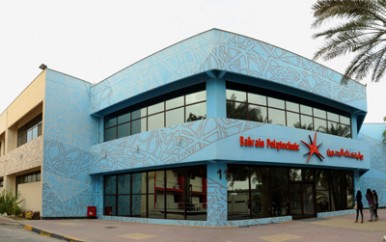 A group of Bahrain Polytechnic Business School staff members attended the Global Innovators 2013 conference in Doha at the Qatar National Convention Centre from April 4th-7th, aiming to present their various findings of their research and practice in the academic areas of Engineering, Business and English language.
The four day conference touched a vast number of topics related to the field of Technical & Vocational Education & Training (TVET), including innovation, practice, pastoral support and pedagogy. Presented by numerous delegates, including four keynote speakers, the aim of conference was to share and disseminate practices and techniques with the peers based on standard paper presentations, workshops and panel discussions.
Amongst the delegates were six staff members from Bahrain Polytechnic, in which three presented their research and findings regarding the Polytechnic's innovative practice in work-based learning, problem-based learning pedagogy and educational practice. Their contribution and presence at the conference marked an achievement for the Polytechnic.
"Not only have we networked and raised the profile of Bahrain Polytechnic, we have gained an immense amount of knowledge and experience from the convention." stated Oonagh McGirr, Acting Manager for Teaching & Learning in Bahrain Polytechnic.
"During the course of the four day conference, we were involved in group discussions and sessions with many international colleagues, and were able to understand and qualify where Bahrain Polytechnic is situated in terms of international standards. These points range from inducting and motivating students successfully to similar international challenges and innovation." concluded Ms. Oonagh.
Dr. Mohammed Al-Aseeri, Acting Chief Executive Officer of Bahrain Polytechnic commented: "It's remarkable to see that our practices are recognized and following global values. Our attendance at the conference is bound to increase our image as a well-established educational institution. Furthermore, we strive to keep meeting Bahrain's Strategic Plan 2011-2014 goals as well as its 2030 vision."
Organized by The College of the North Atlantic in Qatar, the Global Innovators 2013 conference aims to bring together the world's leading practitioners and renowned educationalists in TVET, explore the possibilities to transform the TVET learning experiences, improve student engagement and support the development of TVET education around the globe.
Posted on 7 July, 2013 in News