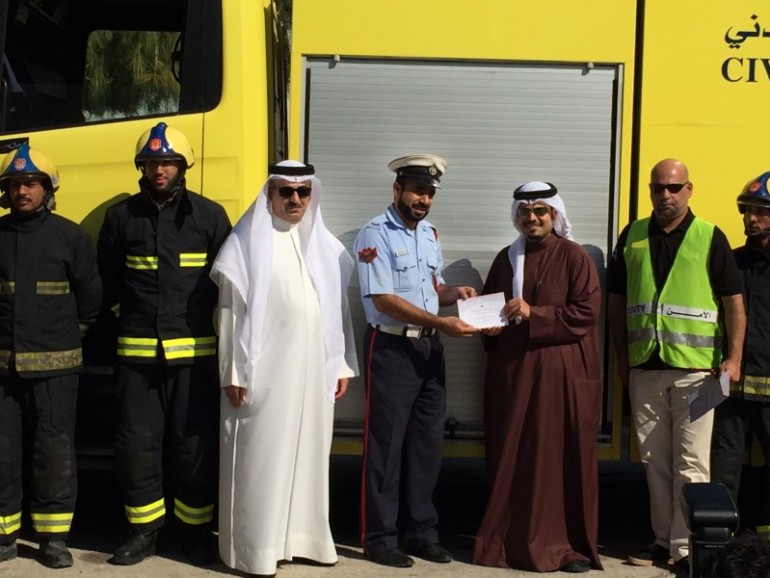 In collaboration with the General Directorate of Civil Defence and supervision of the executive management, Bahrain Polytechnic's Health & Safety organized a fire drill, where staff and students were trained on the proper evacuation process in case of any emergency, as well as preparing them to respond to accidents of various kinds.
During the fire drill, the civil defence team displayed an act on how to dismantle vehicles, control the fire, and rescue stranded people in the event of traffic accidents.
Yousif Mohammed, Manager of Security of Bahrain Polytechnic gave his sincere thanks and appreciation to all the staff and students who participated during the fire drill, where their cooperation in listening to instructions played a big role in the success of the fire drill in record time.
Sh. Ali bin Abdulrahman Al Khalifa, Deputy CEO of Resources & Information Affairs, Chairman of the Health & Safety committee, stated: "This annual fire drill comes under the keenness of the executive management, represented by His Excellency Dr. Mohamed Al Aseeri the Acting CEO, to provide safety to all employees of the Polytechnic during working and outside hours, as it is the main pillar of the Polytechnic to provide excellence and leadership in higher education and training.
"We would like to thank the General Directorate of Civil Defence and the Polytechnic security and safety team for their cooperation in properly executing the two day program, conducted by the Health & Safety committee. The event was conducted professionally, and we've received positive feedback as a result." concluded Sh. Ali Al Khalifa.
Posted on

14 December, 2015

in News