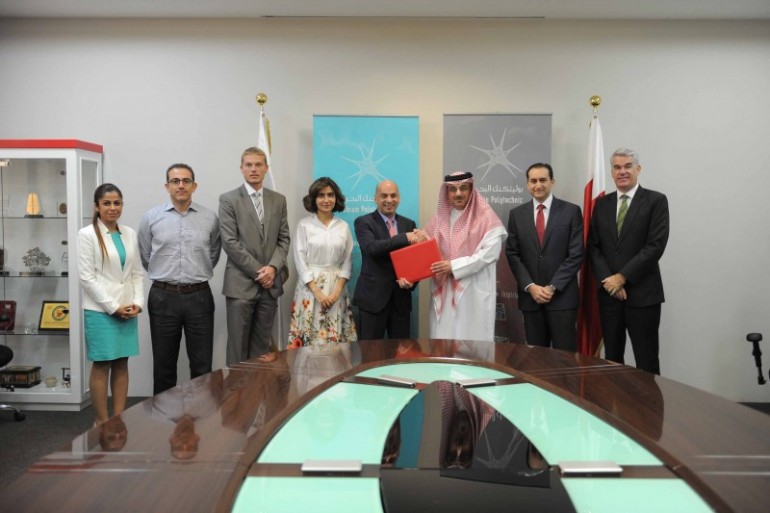 Bahrain Polytechnic signed a memorandum of understanding with T-Linx Technology Solutions Architects, a Bahrain-based technology consulting firm, at the Polytechnic campus.
Fourth and final year students will have the opportunity to gain practical training and gain expertise in the field of digital solutions, and will have the opportunity to apply the knowledge and skills they have acquired during their studies.
The agreement will allow the exchange of knowledge, experiences, and ideas for students to create projects. Students will also be able to work at the firm as full or part time. Additionally, the Polytechnic and T-Linx will collaborate together to conduct research projects in the field of technology.
Dr. Mohamed Al Aseeri, Acting CEO of Bahrain Polytechnic, stated: "The practical experience will help our students since it will enable them to be prepared for the job market. The Polytechnic are constantly working on preparing its students through the problem-based learning approach, as they apply their knowledge while working in local and international companies in Bahrain. This will make them work-ready upon graduation.
"We are delighted with this signing [with T-Linx], as it opens doors for more training opportunities for our students as per the requirements of the labor market. This will contribute in an increased national competency standard, allowing Bahrainis to have more expertise in various fields. This is certainly a step towards meeting our strategic plan 2015-2019, Bahrain's 2030 Vision and government action plan 2015-2018." concluded the Acting CEO.
Commenting on the MOU, the CEO of T-Linx, Mr. Waleed Khalaf stated: "We are very excited about this collaboration with The Polytechnic, as we believe it compliments our efforts to bring in new technologies to Bahrain and enable young Bahraini graduates to gain knowledge and practical experience of such niche applications."
The memorandum of understanding was signed by Dr. Mohamed Al Aseeri, Acting CEO of Bahrain Polytechnic, and Mr. Waleed Khalaf, CEO of T-Linx, in the presence of representatives from both parties.
Posted on 15 December, 2015 in News