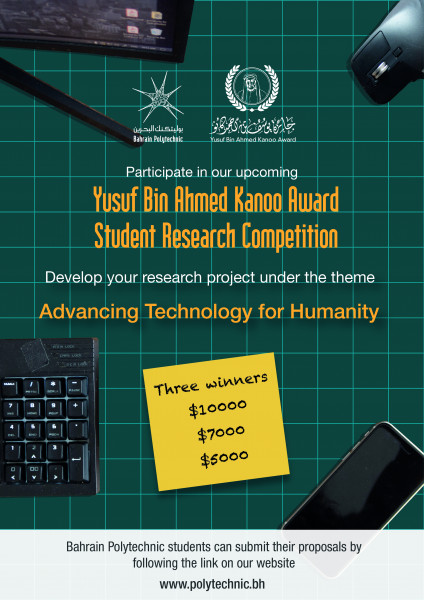 Participants can register by filling out the two documents below and sent to research@polytechnic.bh:
YBA Kanoo Student Research Proposal Form
YBA Kanoo Student Research Ethics Approval Form
Introduction
The Yusuf Bin Ahmed Kanoo Group is a privately held business conglomerate established in Bahrain in 1890. It is one of the largest family-owned multinationals in the Middle East. The Yusuf Bin Ahmed Kanoo Award, since its establishment in 1998, has been encouraging Gulf and Arab specialists in the field of scientific research who seek to spread scientific knowledge in the society. The Yusuf bin Ahmed Kanoo Award comes within the framework of the Yusuf bin Ahmed Kanoo Group's interest in supporting projects of public service and effective contribution to religious, cultural, and humanitarian projects and in encouraging thinkers and scholars from the Gulf and Arab countries in the fields of Islamic studies, finance, economics and business, and various fields of science and literature. The award bears the name of the founder of the group, Haji Yusuf bin Ahmed Kanoo, in memory of him, as he was known for his interest in science, education and the assistance of science students, in addition to his great contributions to humanitarian and charitable works that benefit the community.
Program Overview
The Yusuf Bin Ahmed Kanoo Student Research Competition (SRC) offers a unique forum for Polytechnic undergraduate students to present their original research before a panel of judges and attendees.
There are two rounds of competition:
The first round is usually referred to as the Poster Session. This is your opportunity to present your research. Judges will review the posters and speak to participants about their research; a group of semi-finalists will be chosen to present at the second round of the competition.
Semi-finalists continue by giving a short presentation of their research before a panel of judges, with a supporting power point presentation. Evaluations are based on the presenter's knowledge of his/her research area, contribution of the research, and the quality of the oral and visual presentation.
Participation Requirements
Eligibility criteria:
You must be a registered Bahrain Polytechnic student to join the competition.
All work must be carried individually with support of an academic supervisor. Only individual research is accepted; group research projects will not be considered.
External support (students or supervisors from other universities) in the form of consultation is allowed but only the main student and main supervisor will be eligible for the award.
If an individual is part of a group research project and wants to participate, they can only present their part of the research. Only they will receive the prize and monetary award (should they win).
Project criteria
Research project must be in the field of Applied Science (Computer Science or Engineering) under the theme "Advancing technology for humanity".

Fields of interest include: Communication, Networking and Broadcast Technologies; Components, Circuits, Devices and Systems; Computing and Processing; Engineered Materials, Fields, Waves and Electromagnetics; Power, Energy and Industry Applications; Robotics and Control Systems; Signal Processing and Analysis, Sustainability

Registered students must work on innovative projects, never previously published.
One project only per student
Prizes
Three winners will be chosen, receiving $10000, $7000, and $5000, respectively (shared 60%/40% with the academic supervisor)
Timeline
1. Call for Submissions
The call for SRC Submissions will be posted on 1st November 2022, requiring students to prepare a proposal, working closely with their supervisor. Proposals must be submitted by the polytechnic staff member supervising the project directly to the SRC chair (research@polytechnic.bh).
2. Selection of Participants
Abstracts shall be reviewed by the relevant head of school to ensure they meet the minimum standard and include all relevant ethics approval as required.
3. First Round of Competition, "The Poster Session"
Each student will prepare a poster for this round. Students are expected to discuss their work with evaluators who visit their presentation areas. Each evaluator will rate the student's visual presentation based on uniqueness of the approach, the significance of the contribution, visual presentation, and format of presentation (see judging scale below).
4. Second Round of Competition, "The Presentation Session"
Semifinalists shall give a twenty-minute presentation followed by a ten-minute question and answer period. This session will be attended by the evaluators and industry representatives. The top three winners will be chosen based on these presentations (see judging scale below).
Final presentation must be presented by the student, supervisors will be allowed to answer questions raised by the judging panel. External support may not participate in the final presentation
5. Announcement of Three Winners
Winners will be announced at the Bahrain Polytechnic Research Day and will be invited to the YBA Kanoo Award Ceremony in November 2023.
Scale for evaluating the poster presentation of the research:
Visual presentation: 5 points
Significance of contribution (local and international impact): 10 points
Research methods: 15 points
Ability to answer evaluators questions: 10 points
Final grade will be an average of the 3 evaluators' score.
The top three students in each school will advance to the presentation session.
Scale for evaluating the oral presentation of the research:
Knowledge of research area: 10 points
Results and contribution: 10 points
Contribution of research: 10 points
Implication and future work: 10 points
Quality of Presentation: 10 points
The winners will be selected based on the average score of each evaluation committee member.