Programme Length and Credits
8 Semesters (Full-Time)
480 credits
Programme Entry Requirements
Applicants need to achieve the minimum requirements in the English and Mathematics entry tests OR Pass the English and Mathematics (Information Technology) courses from the Certificate in Academic Preparation programme.
Apply
Course Fees
Download Brochure
Introduction and Programme Aims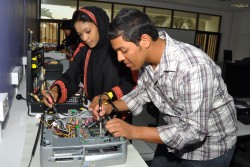 The programme aims to develop work-ready, skilled ICT graduates who have the necessary attributes and attitudes demanded of the ICT industry.
The focus of the programme is on practical, hands-on skills, backed by industry relevant partnerships that ensure the programme develops relevant skills that keep in line with the rapidly changing ICT landscape.
Each course has underlying concepts developed through a mixture of activities, and assessed using methods that closely model professional practice.
Majors
Management Information Systems
Networking
Programming
Database Systems