Programme Le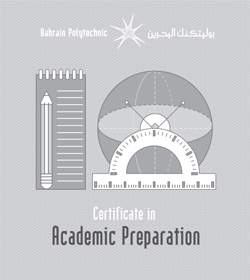 ngth
Programme Entry Requirements
Students must complete the Bahrain Polytechnic Selection Test and achieve the required English and Maths levels. To meet the English level, students may also submit a completed IELTS with no band less than 4.0, or equivalent.
Course Fees
Apply Now
Introduction & Programme Aims
The Foundation Programme prepares students for degree study. The Foundation Programme offers a flexible, innovative programme designed to meet students' goals and learning needs. Students are placed in courses according to their academic requirements which will further develop numeracy and literacy, personal growth, and technical skills. Students will also become familiar with the Polytechnic environment and requirements of study at degree level.
The Programme plans to meet the individual learning needs of students in a supportive environment that enhances the development of confidence, and the ability to make informed decisions related to ongoing study options.
The Programme aims to raise students' awareness of Bahrain's labour market and to develop their future employability skills.
The Programme is flexible and designed to meet individual learning needs. Students are assessed and placed according to their level in English and Maths. The Foundation Programme has the following components of learning assessed in the following courses:
In addition to preparatory courses for external assessments in English and Maths, a range of access courses related to individual degree paths may be available. Students will also have an opportunity to explore career options in conjunction with the degree programmes and industry representatives.
 To view the courses of this programme, please click on the link below: