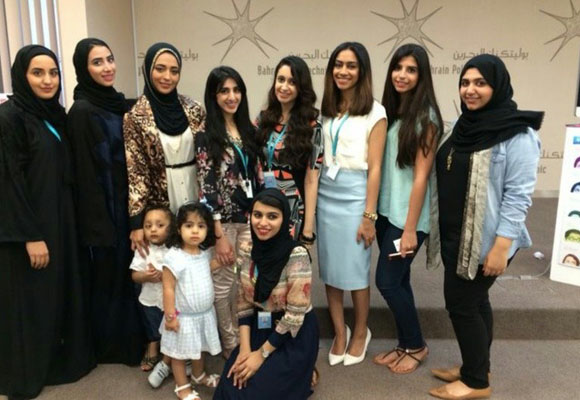 Organized by the School of Visual Design, Bahrain Polytechnic, 15 third-year visual design students hosted a three-day exhibition involving a mixture of various visual design degree projects starting from May 27th 2014.
Each student had a unique project which had a message to convey, and was portrayed in a creative manner which saw a vast audience entertained with the tour of the exhibition, called 'Spectrum'.
The level of astute detail surrounding the projects caught the eye of the executive management of Bahrain Polytechnic says Dr. Mohamed Al-Aseeri, Acting CEO, insisting that the students deserve credit for hosting such an event, from the organization of the exhibition to the latter stage.
"I honestly would have to praise the students which came up with these brilliant ideas. Visual design is a unique program which covers how to communicate effectively using various designs."
Summarizing some of the projects, 'Invisible Vision' talks about how to communicate with the visually-impaired using various materials such as fabric, metal or rubber in order to guide them around. 'Versatile' is a project based on using the right choice of font and color in order to create a quality logo for the matching industry. 'Once Upon A Bite' contains a handful of children books to help parents teach their children of various life lessons. The books are highly interactive with unique illustrations.
He continued: "We teach our students to think outside the box at all times, and throughout the three days [of the exhibition], they really have brought something interesting to Bahrain Polytechnic. They also heavily used Instagram to showcase the exhibition.
"I would like to thank the students and staff members who kept in all their efforts to produce a magnificent exhibition." concluded Dr. Al-Aseeri.
Bahrain Polytechnic conducted a similar exhibition last year, known as "8 Degrees of Difference", this was the "first" degree project exhibition to showcase the work of eight students who are now graduating this year.
The story of 'Spectrum' can be seen on their Instagram account, @spectrum_bh.