Programme Length
Programme Entry Requirements
Applicants need to be competent at English and Maths and can demonstrate it by:
Passing the English and Maths selection tests at the required entry level; or
Passing English and Maths in the foundation programme [CAP]
Apply
Course Fees
Download Brochure
Majors
Marketing
Management
Banking & Finance
Accounting
Human Resource Management*
Events Management*
*Subject to final approval.
Introduction and Programme Aims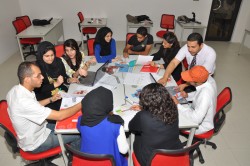 Graduates of the Bachelor of Business will have a broad understanding of the business environment as well as technical and employability skills.
Graduates will have the skills to enable them to be successful in their chosen career, whether it is banking and finance, management, accounting, sales, or marketing.
A broad-based business knowledge
An understanding of the capabilities within, a specialised business field
English language suitable for modern global business
The confidence and skills to be life-long learners
Academic and personal capability
Abilities to expand their knowledge, adapt and apply skills such as research and critical thinking to any situation
Awareness of global issues and the role they will play as members of the international community
An understanding of real-life sociological and ethical issues