Programme Length
4 years – 8 Semesters (Full-Time / On Campus) – 480 credits
Programme Entry Requirements
Applicants must achieve the minimum requirements in the English and Mathematics entry tests OR pass the Mathematics and English courses in the Foundation programme.
All applicants must submit an e-portfolio of their creative work (e.g., advertisements, social media posts, short videos, artwork, sketches, photographs, webpages, branding elements, designs, etc.). The e-portfolio must contain a minimum of 5 pieces of work, with a maximum of 10 pieces of work.
Course Fees
Apply Now
Introduction and Programme Aims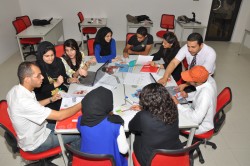 The Bachelor of Digital Marketing Degree is a unique degree that provides you with the skills and knowledge to be successful in an increasingly competitive marketplace for graduate employment.  The Bachelor of Digital Marketing Degree enables you to develop a variety of much sought after skills and knowledge from marketing, visual design, and web media courses.
Evidence from our recent industry survey highlighted that 80% of employers need graduates with these skills, with 100% of employers seeing the need for these digital marketing skills increase over the next 5 to 10 years.  100% of employers also recognized that these digital skills and knowledge were important future employability skills, and 83% of employers would employ Bahrain Polytechnic Bachelor of Digital Marketing Degree graduates today if they had appropriate vacancies within their organisations (Bahrain Polytechnic – Bachelor of Digital Marketing Degree Feasibility Study, 2021).
The focus upon developing and implementing digital marketing strategies, critical thinking and problem-solving skills through Bahrain Polytechnic's applied higher education environment enables you to experience an engaging and rewarding learning journey through to graduation.   The Bachelor of Digital Marketing Degree is truly a degree that will equip Bahrain Polytechnic graduates to be the digital marketing managers both now and in the future.
This is a four-year standalone Bachelor of Digital Marketing degree programme.