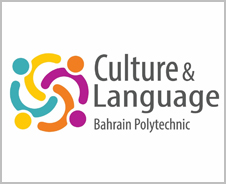 "A different language is a different vision of life."
Federico Fellini
"Language is the road map of a culture. It tells you where its people come from and where they are going."
Rita Mae Brown
The club is located in Building 24 with the BPSC.
We welcome all Bahrain Polytechnic students to join the Culture & Language Club to organize, facilitate and contribute in Culture and Language activities.
Bahrain Polytechnic students are welcome to officially join the club as a member at the beginning of Semester 1 of each academic year
Culture & Language Club Aim
The Bahrain Polytechnic Culture & Language Club aims at:
To increase the knowledge regarding other cultures and languages.
To display the uniqueness and beauty of other cultures and languages.
To have a greater sense of acceptance of others from different cultures.
To support the internationalization goals of the Polytechnic in line with its Mission "Bahrain Polytechnic produces professional and enterprising graduates with the 21st century skills necessary for the needs of the community locally, regionally, and internationally."
To create opportunities where students can interact with people from other cultures and learn from them.
To offer other language courses in collaborative with Student Affairs Directorate to students and staff.
This may be through official sponsored programs or by volunteers who are familiar to the provided language.
To support the Polytechnic students in regard to any language electives (e.g. Arabic, English, Korean, etc..).
To facilitate opportunities for exchange programs
Culture & Language Club Executive Members
The current executive board members were elected in the annual meeting of the club held in October, in accordance with the BOT resolution:
C&L Club Executive Board members 2020-2021
Culture & Language Club is established to makes our students more involved and engaged with the Polytechnic society in addition to enhancing skills including teamwork, communication, and problem-solving. It will help you define and achieve your goals by allowing you to explore career opportunities and networking with professionals and community groups.
 Culture & Language Events