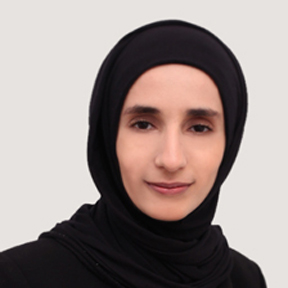 Sana Hasan Al Amri is a Business Tutor at Bahrain Polytechnic with over 13 years of experience in the education field.
Sana joined Bahrain Polytechnic in 2013 and played an important role in the development & delivery of different accounting courses like Introduction to Accounting & Financial Accounting for Companies. She also participated in the supervision of industry projects for final year students & her academic interest lies in International Financial Reporting Standards (IFRS's).
Prior joining Bahrain Polytechnic Sana worked as a Senior Internal Verifier were she participated in the assessment verification, curriculum design, teacher supervision for different specialized courses.
She also has a background in teacher training in different areas like adult learning, project-based learning, assessments, planning, and teaching methods.
Sana is certified Practitioner Coach from Medex , she attended several educational courses & conferences organized by Hawker Brownlow Education (Melbourne – Australia) , EDB,QQA, MOE, UNESCO, Bahrain Teacher Collage & National Institute of Education NIE.
| | |
| --- | --- |
| 2007 | Master in Business Administration , Ahlia University, Kingdom of Bahrain  |
| 2004 | Education Diploma /UDED , University of Bahrain, Kingdom of Bahrain |
| 2001 | B.Sc. in Accounting , University of Bahrain , Kingdom of Bahrain |
| 1998 | Associated Diploma in Accounting , University of Bahrain, Kingdom of Bahrain |
| | |
| --- | --- |
| 2015 | Certified Practioner Coach , Medex. |
| 2014 | NLP Diploma ,International NLP Trainers Association ,Kingdom  of Bahrain. |
| 2014 | Level 3 Award in Training Skills and Practice, Chartered Institute of Environmental Health, UK |
| 2013 | OSH Professional Development Programme, OSH Academy ,UK. |
| 2007 | Train the Trainers , UNESCO. |
| 2003 | ICDL (International Computer Driving License) ,MOE, Kingdom  of Bahrain |
| | |
| --- | --- |
| 2013-Present | Business Tutor, Bahrain Polytechnic, Kingdom of Bahrain. |