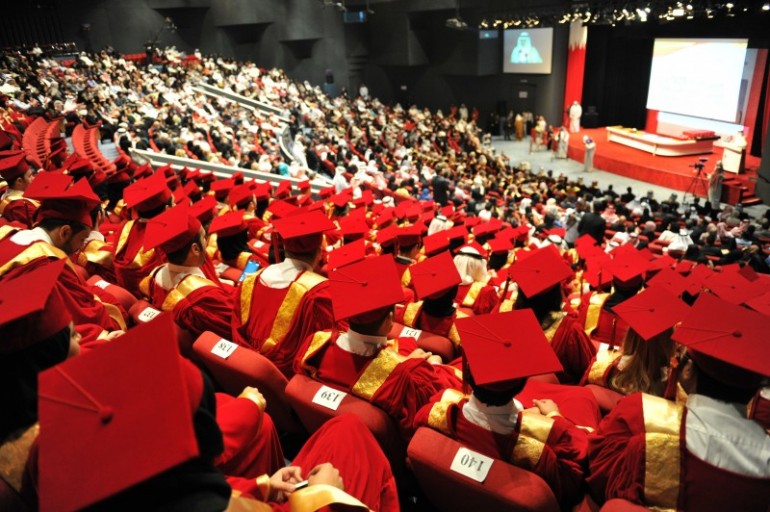 This announcement concerns graduates only.
Congratulations on graduating, we hope you will attend the 2017 Graduation Ceremony on 29th November (morning). To attend the Ceremony you also need to attend the practices on 25th & 27th November.
Graduates wanting to attend the ceremony MUST confirm, and purchase/ rent their graduation cap and gown for 55 BHD from 16-18 October 2017. Please read all the information below for details.
KEY DATES:
Confirm your attendance at the 2017 Graduation Ceremony:
DATES:
16th October, Monday: 9 am – 2 pm.
17th October Tuesday: 9 am – 7 pm.
18th October Wednesday: 9 am – 2 pm
If you cannot come to the Polytechnic yourself, a delegate can do it for you. Read and follow the instructions below.
PROCESS:
Log into SSB and complete the online form and print the relevant documents.
You can see the documents again by logging into SSB again. Note that SSB link is mobile compatible (we advise that you do not use Internet Explorer)
Print and Bring the completed form (and letter if needed) to the Student Information Centre (Building 8).
If you are sending a delegate, please refer to the process further below.
See Registry ONLY if you want to update or change your name – remember, you need a valid passport.
Pay the fee to the Finance staff  (BHD 55) – confirmation and Gown and Cap purchase/rental fee. Payment is done through credit or debit cards only, cash is not accepted.
Collect your Bahrain Polytechnic Graduation Gown and Cap from Room 8.19.
Go to the Graduation Photo Shoot  -have your photo taken in 8.04 – please ensure you dress appropriately (see below).
FURTHER INFORMATION:
Graduation Photo Shoot / Dress Code
All graduates are requested to attend the photo shoot to have their photo in the 2017 eGraduation Booklet.
The Photo Shoot will run the same time as the Graduation confirmation from 16th-18th October in Building 8.
You are required to dress formally for the photo session/ graduation, and under your gown, you must wear:
Males:
White thobe, ghutra and agal; OR
Formal suit with a white shirt and a tie.
Females:
Black abaya with black shaila or hijab; OR
Formal suit with a white shirt.
If you have questions about the photo shoot, please contact Mr. Habib Jaffer.
Delegating someone else to confirm for you
If you are unable to complete the confirmation process but will attend the Ceremony and practices, you MUST send a DELEGATE (someone to complete the process for you) from 16th-18th October.  They must bring their CPR or photo ID and complete the process as stated in Building 8. Also:
Advise Registry by email – Graduation@polytechnic.bh before the closing date stating:

Your name, CPR, Student ID, current phone and email contact details;
The name and CPR number of your delegate (spouse, parent or guardian) who will submit your signed form, pay the fee BHD 55 and collect the cap and gown for you.
The rental / purchase fee
A partial refund may be issued ONLY if the CAP and GOWN are returned in good condition, the gown must have been cleaned (a cleaning receipt is required) on the return dates – 3rd and 4th December 2017, 9 am – 2 pm.
Graduation Practices
Attendance at both practices at the Sh. Abdulaziz Hall, University of Bahrain in Sakhir is compulsory.
Expected dates (to be confirmed) are:
Saturday 25th November (10:00 am – 12:00 pm)
Monday 27th November (3:00 pm – 6:00 pm)
If you need a letter for your employer, print it from SSB, and bring it when you confirm so we can stamp it.
Tickets for the Ceremony will be issued at the second practice
The number of tickets will be based on the number of confirmed graduates attending (we expect this year it will be two or three per graduate).
Collection of your Certificate and Official documents AFTER the ceremony:
Registry will send details by email AFTER the ceremony, when the certificates and transcripts are ready.
Should you have any enquiries, please contact us through Graduation@polytechnic.bh.