Language Centre
The Language Centre provides courses to staff, students and the wider external community that enable participants to develop their English language skills.
The Language Centre offers workplace related skills through licensed City & Guilds English for Business Communications courses and short courses around email writing, meeting agendas and minutes, and report writing to allied staff.
City & Guilds courses enable participants to study for an internationally recognized qualification and put into practice what they learn. Our short courses are highly practical and allow participants to either consolidate their knowledge and skills, or have a good grounding in the relevant subject area if it is something new.
Writing Centre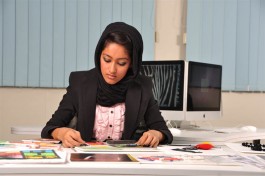 From its inception, Bahrain Polytechnic has supported the provision of learning support outside the classroom. The need for this support is more relevant in the area of writing skills development, as both employers and academics place heavy emphasis on English written proficiency.
The main objective of Bahrain Polytechnic's Writing Centre is to help individuals who seek our services to become better and more self-sufficient writers through one-to-one tutoring sessions which are adapted to individual needs. Such consultations take place in a safe, comfortable, and professional environment, in which our trained and highly supportive tutors offer help with writing in all disciplines and at all levels, whether it is an essay, an academic report, a research paper, or a resume.
Writing Centre Services
Bahrain Polytechnic's Writing Centre currently offers students, faculty and allied staff one-to-one 30-minute writing sessions with a trained tutor. The approach used is a collaborative one, whereby Writing Centre tutors do not edit writing but instead, help writers learn from the process of engaging in meaningful conversations about their writing, talking through their ideas, and receiving feedback. We offer help with specific papers/assignments and with writing in general.
Walk-ins are welcome, but appointments are preferred.
Bahrain Polytechnic's Writing Centre has as its main function to help individuals who seek our services to become better, more independent writers. Therefore, we do not provide proofreading or editing services.
We are ready to assist with reviewing group projects, provided all group members are present for the Writing Tutorial session.
You must cancel an appointment if you cannot come. If you do not come to a session and did not cancel, this will be recorded. Do this two times and you will not be able to book online until you have seen the Writing Centre Coordinator to reset your account.
If you are more than ten minutes late for a scheduled appointment, it will be considered as a no-show and you may lose your appointment to a walk-in.
Appointments can be modified or cancelled up to one hour prior to the start time. Anyone who cancels or reschedules an appointment after this deadline will be considered a no-show.
Please silence all phones and electronic devices while visiting the Writing Center.
You may not book back-to-back sessions. Writers need time between sessions to work on revisions and reflect on the feedback given.
Understanding assignments
Brainstorming and organising ideas for a writing topic
Outlining a plan for research and writing
Improving a draft by identifying and using strategies for revision
Understanding language appropriateness and style (e.g. academic vs. non-academic)
Summarising, paraphrasing, and citing sources of information
Bahrain Polytechnic strives to help students develop the skills they need to take responsibility for their own learning. Therefore, the Writing Centre does not offer an editing or proofreading service. We work with students to identify problems with a specific piece of writing, then help students to address those problems themselves. It is a student's responsibility to make changes to any piece of work. The final document is a student's own responsibility and should reflect his/her skill level.
We cannot:
Correct students' papers
Help on the day the assignment or written task is due
Take responsibility for finding and correcting all the mistakes in a piece of writing
Estimate the grade students may earn on an assignment or written task
Perfect the entire piece of writing. Instead, we will concentrate on the aspects that are higher priority and that may be preventing a piece of writing from achieving its goal.
The Writing Centre Tutors
Bahrain Polytechnic's Writing Centre is staffed by a group of trained, highly supportive tutors who work with students at all levels. The tutors are skilled in reading and responding to students writing and are specially trained to help others develop strategies to become better and more independent writers. Our Writing Centre tutors provide help with every stage of the writing process, from brainstorming ideas to referencing.
To book an appointment and register online click here
How to Prepare for a Writing Tutorial
Before the session, think what aspects of your writing you would like help with. When we know what you want from the session we can help you better. We strongly advise that when you make an appointment you attach any information or document that you think will help us have a better idea of what assignment or writing task you need help with.
You don't need to bring a complete draft to the Writing Tutorial session, if you don't have one. We can help at any stage of the writing process, including understanding assignment requirements and generating ideas.
Bring anything you need to take notes and any writing that you have done so far
If your writing concern is related to a particular assignment, bring the assignment and any notes, guidelines, or research material related to it.