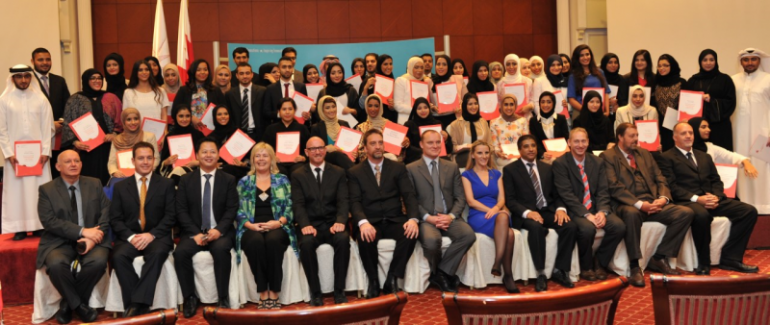 As part of Bahrain Polytechnic efforts to maintain professional currency and expand into being a more knowledge-based economy through assurance of its Learning, the BILM programme announced that its undergraduate and graduate programs are accredited by both 'CILT International' and 'CILT UK through the Institute of Logistics and Transport (CILT).  Institute of Logistics and Transport (CILT) is a leading professional body for everyone who works in supply chain, logistics and transport. This accreditation leads to direct access to Post-Graduate study in other accredited international universities. It will also expose Bahrain Polytechnic graduates to a wider international market in this highly competitive business environment. Bahrain Polytechnic aims for its graduates to lead the industry and become global ambassadors for Bahrain Polytechnic and the Kingdom of Bahrain.
The Dean of Business & logistic faculty Dr John Webb: stressed that the transports and logistics industry is one of the sectors that are deemed crucial to Bahrain's 2030 Economic Vision. The achievement of accredited logistics and transport educational qualifications by a professional body that holds Chartered status, such as the Chartered Institute of Logistics and Transport (CILT), is of value to this qualification and will ultimately play a significant role in the marketing of the individuals locally, regionally and internationally. CILT endorsement will assist those who obtain endorsed qualifications to progress to higher levels of academic achievement either within CILT or from institutes that recognize the CILT brand. "As a leading institute in higher education we believe in rewarding academic excellence and in attracting the most talented students from Kingdom of Bahrain and the wider region", he concluded.
In this regard Graham Adams Head of School for Logistics highlighted that we are now picking the fruits of our endless success story of 11-years relationship with the Chartered Institute of Logistics and Transport. The accreditation by Institute of Logistics and Transport (CILT) is a major milestone for us as it is a competitive advantage for Bahrain Polytechnic graduates within the industry.
The Deputy Chief Executive Officer of Educational Services, Dr Reem AlBuainain praised the numerous achievements attained by BILM programme and commented "The logistics and transport industry is truly global as is the necessity for having globally achieved or endorsed qualifications if our graduates wish to become well-recognized in this dynamic industry." "Accreditation has become the backbone of higher education institutes to survive in the globalization era and in encountering the changes in the Higher Education sector. The accreditation by Institute of Logistics and Transport (CILT) is in line with our commitment to conquer Bahrain Polytechnic strategic plan by achieving Learning. Bahrain Polytechnic will put it as its highest priority to represent excellence in academic and business practices; underpinned by quality assurance and accredited programmes that are internationally recognized. ", she added.
It is worth mentioning that Bahrain Polytechnic remains as CILT's only training provider of their professional qualifications in the Kingdom of Bahrain.
Posted on 18 November, 2019 in News