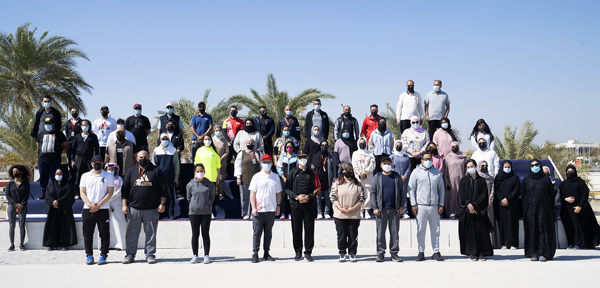 On the occasion of the Bahrain Sports Day, Bahrain Polytechnic hosted a variety of sports activities at its campus for its executive management and employees from 11 AM – 2 PM. The event was in response to the directives of His Royal Highness Prince Salman bin Hamad Al Khalifa, Crown Prince and Prime Minister, to allocate half a working day for sports activities.
On this occasion, the CEO of Bahrain Polytechnic, Professor Ciarán Ó Catháin stated: "This event contributes to developing the concept of sports as a way of life and in promoting physical activities and good health. The government emphasizes sports as one of its strategic pillars, and with that, we have provided an opportunity for all our staff to be involved in sporting activities to keep them healthy and active."
The event included a group walk at the Polytechnic's outdoor football pitch, which was followed by different sporting activities in the spirit of enthusiasm, competition, and active participation. All precautionary measures and guidelines to combat COVID-19 were considered by limiting the participants to green shield holders, wearing masks during the event, and adhering to social distancing guidelines.
In conclusion, Professor Ó Catháin extended his thanks and appreciation to all those who prepared the various activities during the Bahrain Sports Day, as well as the participants for attending the event. He added that he looks forward to the continuation of this event that encourages everyone to stay active and healthy.
It is worth noting that the Polytechnic places a great emphasis on sports. It has established a health and wellness centre that includes several gyms for women and men, a multi-purpose hall for indoor sports such as basketball, tennis, and badminton, in addition to an outdoor football field. The Polytechnic also participates in various sporting events held at a national level, encouraging staff and students to exercise and maintain their health. It is also keen to be involved in the various health campaigns that are organized in the Kingdom.
Posted on 25 July, 2022 in News