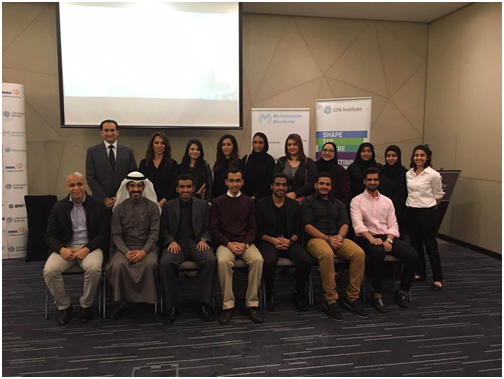 Bahrain Polytechnic's Industry & Liaison representatives attended the official launch event for Mutamahin Program 2016; a 6 month training program which aims to prepare fresh graduates to become ethical, dedicated and seasoned investment professionals in reputable financial institutes.
This year, the Polytechnic is proud to see 12 of its students and graduates selected for the program among 60 finalists from a total of 200 applicants, as compared to 2 students in 2015.
Organized by the CFA Society Bahrain, 50 to 60 students are selected from all universities in Bahrain for the program depending on a certain criteria (majors, GPA, etc.). After 10 weeks of intensive courses on Hard Skills and Soft Skills led by experts in the region, 20 best performing students will be selected for a 3-6 months internship in one of the top financial institutions in Bahrain.
On this occasion, Ms. Latifa Al Fadhel, Programme Manager for Work Integrated Learning, said: "This program will help students gain the necessary financial and specialized expertise before entering a real business environment. The Mutamahin Program falls perfectly under our goals of producing work-ready graduates which meet the labor market requirements."
Dr. Mohamed Al Aseeri, Acting CEO, praised the program organized by CFA Society Bahrain and its role in developing a generation of financial leaders for the Kingdom, as it meets the Bahrain 2030 Vision and the government action plan 2015-2018. The Acting CEO also thanked all Polytechnic staff involved in bridging the gap between the students and the Mutamahin program.
Ms. Latifa Al Fadhel and Mr. Talat Abdulla, the Polytechnic's Industry Liaison Manager, attended the official launch event for Mutamahin Program 2016.
Posted on 24 January, 2016 in News