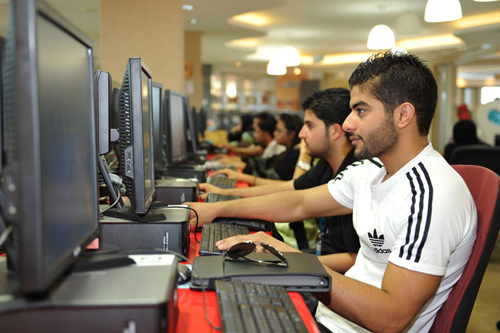 Bahrain Polytechnic launched its new programmes and majors in a variety of fields for potential applicants and current students to apply and register for respectively. The programmes were carefully designed in coordination with key industry members to produce professional and work-ready graduates that meet local, regional and international labor market requirements.
Starting from the academic year 2022-23, applicants and students will be able to apply or register to the new programmes and majors, being: Bachelor of Digital Marketing, Bachelor of Film and Animation, Diploma in Engineering Technology (Petroleum and Process Plant Operations), Electromechanical, Communications & Networks, and Cyber Security. Students will be exposed to theoretical and practical knowledge that will prepare them for the in-demand roles in various sectors.
Polytechnic students will also need to complete a work-placement program at an organization before their graduation, which will enable them to be well-positioned academically and professionally as they begin their careers.
Professor Ciarán Ó Catháin, CEO of Bahrain Polytechnic, stated on this occasion: "We are excited to offer these new programmes and majors in our Business, ICT, Engineering, and Design schools, which will prepare students for these in-demand roles. Every year, we meet key industry members in a variety of sectors to enhance our curriculum and add relevant programmes which benefits our student's academic growth. These new programmes and majors ensure that we are meeting the needs of the labor market, as well as fulfilling the goals of Bahrain's 2030 Vision."
Dr. Reem Albuainain, Deputy CEO of Academic Affairs, commented: "The launch has come at a great time as we are currently accepting applicants for the next academic year 2022-23. As per our data from the last cohort, this allowed us to have an 87% graduate employment rate within 1 year of their graduation, proving that our programmes meet labor market needs. Bahrain Polytechnic will continue to collaborate with its industry partners to upgrade and add programmes, as we prepare our students for a promising future."
Bahrain Polytechnic's admission period for the next academic year 2022-23 will end on 8th June 2022, where the application process will be conducted online by completing the application form available on Polytechnic's website: www.polytechnic.bh
Applicants are required to fill up the online application form and pay the application fee (BD 20 non-refundable). Upon completing the payment, they will select their entry test date afterwards. Additionally, applicants must also submit a copy of their smart card or passport (valid) and their secondary/high school certificates available to them at the time of the application. Afterwards, the admissions department staff will verify the required documents and approve the application. An email of confirmation will then be sent to the applicant to confirm that their application has been submitted.
As the selection of applicants to Bahrain Polytechnic will be competitive, the Polytechnic advises all applicants to prepare for the entry tests in Mathematics and English, where sample test questions can be found on the Polytechnic's website. Applicants who meet the minimum high school GPA requirements of at least 70% (to be provided with the graduation certificate) and pass the entry test will be selected based on the number of vacant seats in that year.
It is important to note that Bahrain Polytechnic offers a range of programmes that applicants can select after successfully completing the programme requirements. The Polytechnic offers the following programmes: Bachelor of Business, which includes the following majors: marketing, accounting, banking and finance, and human resources management. It offers the Bachelor of Information and Communications Technology, which includes the following majors: database systems, management information systems, networking, programming, and cyber security. It offers the Bachelor of Engineering Technology, which includes the following majors: electrical, electronics, mechanical, electromechanical, and communications & networks. It offers the Bachelor of International Logistics Management, the Bachelor of Visual Design, and the Bachelor of Web Media. It also offers the recently added Bachelor of Film and Animation, Bachelor of Digital Marketing, and Diploma in Engineering Technology (Petroleum and Process Plant Operations).
Posted on 24 April, 2022 in News