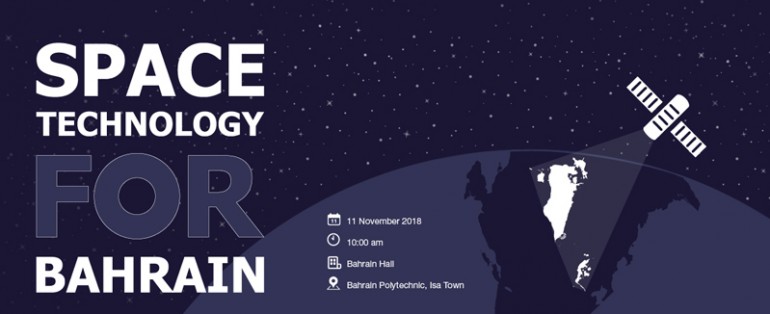 In partnership with National Space Science Agency (NSSA), Bahrain Polytechnic organizes a symposium titled "Space Technology for Bahrain", to be held on 11-12 November 2018 at the Bahrain Polytechnic campus under the patronage of His Excellency the Minister of Transportation and Telecommunication, Engineer Kamal bin Ahmed Mohamed. The main objective of this event is to familiarize the Bahraini community with the Space technology advancements and applications as well as the benefits of its development in the Kingdom of Bahrain.
The School of Engineering, along with the Academic Development Directorate of Bahrain Polytechnic, are the symposium coordinators and organizers. The event is open to delegates consisting of leading local and international industries, local Government Bodies, international experts, Social Communities and Academic Institutes.
The symposium is comprised of two main sections: part 1: Space technology in Bahrain Development – Benefits and applications in daily life and part 2: Cub-satellite projects development for educational purposes. Space leading international companies are participating in order to propose related applications.
Space Technology for Bahrain is one of the first in its kind in Bahrain and it is expected to be participated by several leading local and international bodies.  Potential development of Space technology projects in all scales will be presented, emphasizing the improvement of the Bahraini Community life and the technological advanced applications which confirm the Kingdom's leadership and innovation in this field.