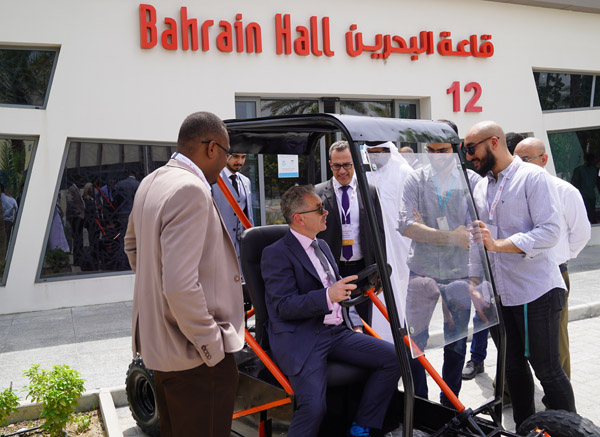 Sponsored by Aluminium Bahrain B.S.C. (Alba), Bahrain Polytechnic held its 6th Engineering Project Exhibition, where 4th year students from the School of Engineering presented and developed in collaboration with leading industries of Bahrain. The exhibition was held on Thursday, 23rd June at the Bahrain Hall at the Polytechnic campus in Isa Town.
The projects covered a variety of engineering topics, such as clean energy, solar energy, robotics, waste management, water purification systems and environmentally friendly solutions that promote sustainability and innovation.
The opening ceremony commenced with a speech delivered by the Head of School: Engineering, Dr. Christina Georgantopoulou, where she stressed the Polytechnic's keenness to organize this exhibition annually to allow students to showcase their presentation skills and projects in front of leading companies.
She added: "Our final year Bahrain Polytechnic engineering students deserve many congratulations for the great and hard work that they have done, for the passion that they have shown towards the best possible solutions and models that they presented. The massive success of this event is the result of the best teamwork that we have in our School as Faculty and students working together daily under the great support of our senior management and the industries of Bahrain. I am really thankful to our Engineering Faculty for their great work that they do in preparing work-ready graduates and enabling young engineers to be able to work for a better quality of life."
In turn, the CEO of Bahrain Polytechnic, Professor Ciarán Ó Catháin, congratulated all the students of the School of Engineering for their great work and their dedicated efforts. He added: "The students have shown a high level of quality and innovation in developing their projects this year, in collaboration with leading Bahraini companies in the field of engineering. This proves the commitment of the School of Engineering at the Polytechnic, which strive to prepare our graduates to be work-ready."
Professor Ó Catháin extended his thanks and appreciation to Alba for their support and sponsorship of the event, and to the keynote speakers, as well as the School of engineering for their role during the exhibition.
The project exhibition hosted two main speakers: Husain Al Malali, Casthouse Operation Manager at Alba; and Mr. Nidal Al-Basha, Digital Innovation Leader at Amazon Web Services, who each gave a speech. They praised the projects presented by the talented and creative students, which can turn into real projects if they continued its development. They added that the Polytechnic's teaching methods contribute to graduating students who are qualified to enter the business world, due to their soft and practical skills that enable them to be employable to major companies in the Kingdom.
The event concluded with Professor Ó Catháin awarding the keynote speakers, where awards were then distributed to several students:
Yusuf Fakhroo was awarded the Best Industry and Innovation Project Award for his project on Autonomous Vehicle for Planting.
Mohamed Salman and Faisal Jasim were awarded the Best Clean Energy Project Award, for their projects on 'Autonomous Robot for Cleaning Solar Panel' and 'Beach Cleaner Robotic Vehicle' respectively.
Manar Alhashemi was awarded the Best Electronics/Electrical Industry Project Award for her project on 'Automatic Sea Cleaning System; Robotic Machine'.
Javier Caldelas was awarded the Best Mechanical Industry Project Award for his project on 'Designing and Development of a Regenerative Braking System'.
Marwa Yaseen was awarded the Best Applied Research Project Award for her project on 'Water Production System by the Atmospheric Air'.
This was followed by the awarding of the Bahrain Raid Extreme (BRX) winners, Fareed Dheyauddin and Jasim Althawadi. Finally, the awards for the final year engineering projects which were conducted in the Polytechnic's Cloud Innovation Center, under the supervision of Amazon Web Services, were presented to: Husain Mohamed Marhoon, Zahra Faisal Alasfoor, Hamza Khaled Sanad, Ali Nabeel A.Nabi, Zuhoor Husain Busuhail, Maram Waleed Aljasim, and Zahra Mohamed Alasfoor.
Posted on 25 July, 2022 in News