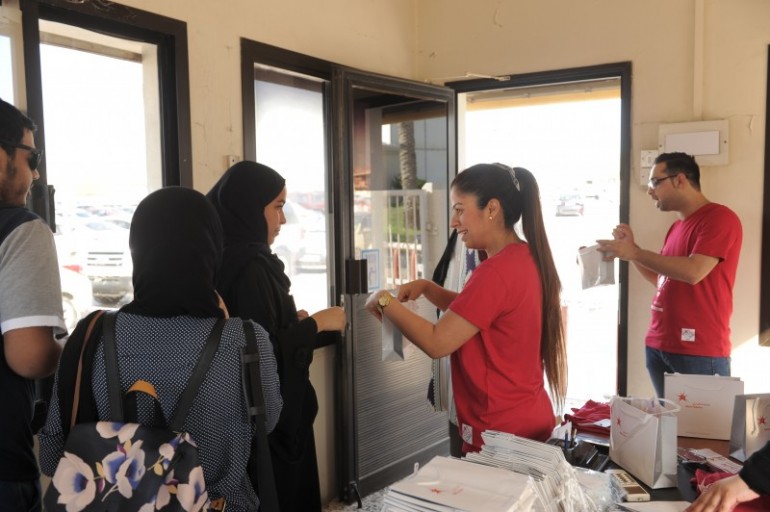 With the support of Bahrain Commercial Facilities Company, Bahrain Polytechnic hosted a five day event under the theme "Career Awareness Week" at the campus from 15th to 19th October 2017, aiming to raise awareness to the students about the Polytechnic's Career & Employment Centre.
All five days had a variety of activities which many of the students took part of, including distribution of gifts, a play, and a raffle draw for prizes.
Mr. Abdulridha Dismal, Chief of the Career and Employment Centre, commented: "The Career & Employment Centre is a unit that provides students with career choices, skills to manage their career, and offer work or training opportunities". He added "We believe that the centre plays a vital role throughout a student's study period here at the Polytechnic, and we organized this event in order to increase the awareness and importance of the center".
"We think that 'Open Day' would help the public understand what kind of programmers and services Bahrain Polytechnic provides, and we were delighted with the turnout.
Additionally, Bahrain Polytechnic hosted the "Open Day" event during the week, where students, their parents, and the public were invited to the campus to have the opportunity engage with the faculty, familiarize themselves with the services offered, and meet the Chief Executive Officer; Dr. Jeff Zabudsky.
Mr. Dismal added "Overall, both events were conducted in a fantastic manner and I would like to thank the organizers of the event, including the executive management, for their efforts to host such an event, and we are looking forward to hosting similar events in the future".
"I'd also like to thank our sponsor, of Bahrain Commercial Facilities Company for all their support throughout the week." concluded Mr. Dismal.
Posted on 29 October, 2017 in News