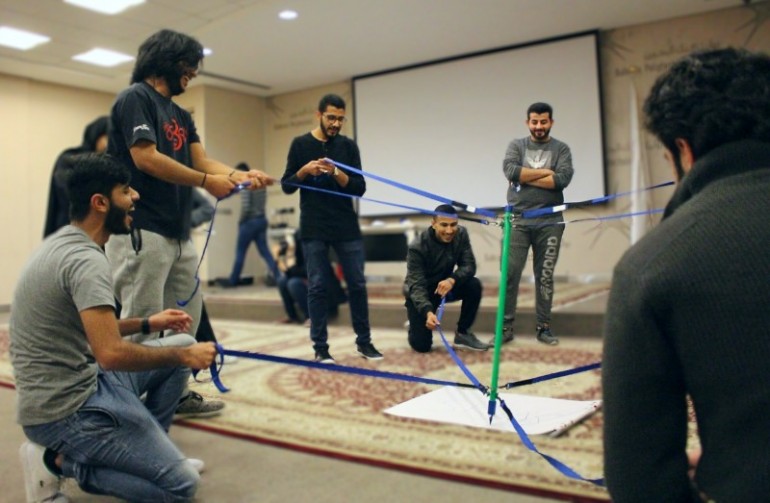 Bahrain Polytechnic brought the curtain down on their first winter camp "Future Skills", the one-of-a-kind camp welcomed 30 university students from different higher education institutes in Bahrain.
The Camp aimed to empower youth with the knowledge, skills and attributes that employers are seeking, by positioning four skills of 21st century readiness which are communication, collaboration, critical thinking & creativity.
The students came from various educational backgrounds, joining a multicultural learning environment facilitated by a very qualified and experienced team led by Sana AlAmri and three other professional coaches who used different interactive activities through a fun approach to ensure a quality learning experience.
The Director of Student Services Catherine Walker stated: "I congratulate all the students who took the decision to participate in this extraordinary opportunity. Bahrain Polytechnic offers to its students many learning opportunity (co-curricular) by conducting student activities that will support them to know, do and become professional employees in the future. Bahrain Polytechnic will continue writing its success story to achieve Bahrain's 2030 Vision to enhance education in the Kingdom & SDGs" she concluded.
Dr. Jeff Zabudsky, CEO of Bahrain Polytechnic, also confirmed Bahrain Polytechnic's commitment to enhance the student's competencies to become work-ready graduates, equipped with the necessary 21st century skills. Noting that learning, excellence and innovation are the values that drive who we are and what we do at the Polytechnic.
It is worth mentioning that after consultation with Bahrain's industry partners, the first Bahrain polytechnic employability framework was developed in 2010 which consist of 8 employability skills (communication, teamwork, problem solving, planning & organization, learning, initiative & enterprise, self-management & finally technology). In 2016, the new employability framework was established to highlight two systems adopted by the institution: the learning opportunities and the assurance of learning both systems are learner centered based in which the learner develops their knowledge skills & attributes.
Posted on 3 March, 2019 in News