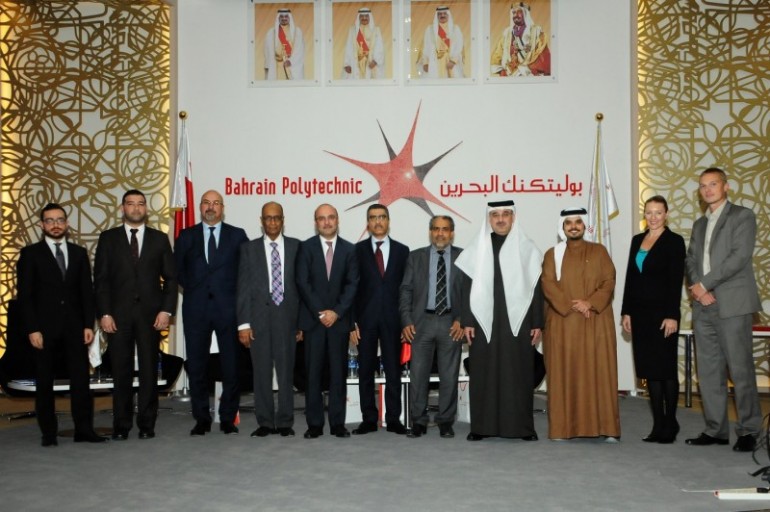 On 6th January 2016, more than seventy Bahrain Polytechnic ICT and Multimedia projects were demonstrated to the ICT community of Bahrain and the Gulf Region, which saw four students offered permanent work placements. The aim of the projects is to provide the students with the necessary skill-set to work on real life problems while following business standards by undertaking academic, technical and management tasks to help them enhance their ICT and business acumen.
Six panelists gathered to exchange ideas in a discussion entitled "ICT Dialogue". The panelists shared their views on the ICT skill set required to make significant changes to work practices and addressed ways of establishing collaboration between industry and academia.
"To provide students with real industry experience, strong ties with the market and faculty should be built" said Dr. Bijan Majidi, Senior General Manager of Motor City Holdings B.S.C. The panel recommended a continuous upgrade to students' skills and ongoing support from the market to engage students in real problems and opportunities. The panelists were impressed by the students' technical capabilities.
Mr. Ameer Yousif, CEO Open inside Co. W.L.L, expressed his trust in the students' output by offering 4 students permanent work placements. Furthermore, Dr. Adel Abdulla, Chair of the IEEE Bahrain Section, emphasized on the need to broaden the students' network after graduation and awarded the graduating students annual memberships to the IEEE Association.
SAP is a market leader in enterprise application software; placed at the center of today's business and technology revolution participated as the Project Exhibition Strategic Partner. The partnership is a result of a mutual interest between SAP and Bahrain Polytechnic aiming at exposing students and faculty to the latest industrial technologies. As an outcome of this partnership, SAP sponsored the "Project of the Year" awards to motivate technology innovation. Mr. Wisam Kadi, University Alliance Country Manager, awarded the winning projects and presented the expansion of its technologies worldwide to expose students and the faculty to its latest technology in an aim to prepare students for industry specific skills through its Dual Study Academic Programme and University Alliances.
Bahrain Development Bank Group (BDB), a leading financial institution that provides several financial and development services to support and develop startups & SME'S, offered valuable prizes to the winners of the "Project of the Year" awards as a Gold Sponsor. The awards include coaching sessions and ROWAD workshops aiming at supporting students in developing their ideas into business startups and enhancing their managerial skills to establish sustainable and commercial ICT projects. BDB is very keen on backing Bahrain Polytechnic students in formulating their ICT projects into successful business ventures. Sh. Hesham bin Mohamed Al Khalifa, Deputy General Manager, Development Services Division, presented the awards to students and encouraged them to continue growing their skills to serve the Bahraini community in line with the roadmap to a digital society.
Think Smart has also presented a token of their appreciation to the Polytechnic as a result of the fruitful collaboration between both institutions.
Dr. Mohamed Al Aseeri, Acting CEO of Bahrain Polytechnic, stated: "As an applied higher education institution, this project exhibition that we host is important for the Polytechnic. Students will be able to showcase their projects to our industrial partners, and get an opportunity to permanently employ them.
"I'd like to thank the participants, especially the industrial partners, for attending this important event and for their feedback. I'd also like to thank the academic and administrative staff of Bahrain Polytechnic for organizing this event." concluded Dr. Al Aseeri.
Posted on 18 January, 2016 in News