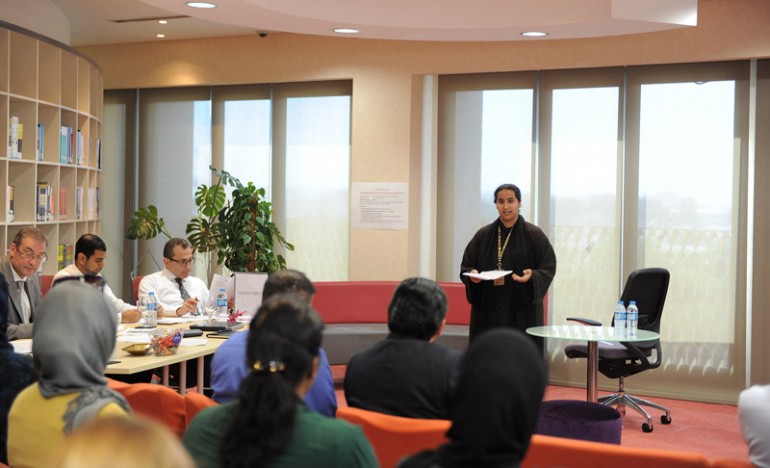 Through the initiative of Sh. Hisham Bin Abdulaziz Al Khalifa, Chairman of Bahrain  Polytechnic's Board of Trustees and under the patronage of Dr Mohammed AlAseeri, Acting CEO of Bahrain Polytechnic, Bahrain Polytechnic held the first Critical Reading Challenge for students on 6th December 2016.
Under the banner 'Critical Journey: Read, Explore, Challenge' the aim was to promote literacy and critical thinking in students in line with Bahrain's 2030 vision and wider Gulf and global initiatives. Critical reading involves questioning the content of a text, exploring why it was written and challenging the facts and opinions offered by the author. Critical reading is a 21st century skill for employability and academia especially with the proliferation of digital media.
24 contestants were reduced to 5 finalists who critiqued on a range of subjects from academic journals and respected magazines such as The Economist, Forbes, and The Times. The judges were impressed by the very high quality and range of the critique and one contestant noted 'This was a great opportunity for students to focus on their English language and vocabulary ……and build more confidence during presentations'.
First prize was presented to Ahmed Taraif by Dr Mohammed Al Aseeri with Dr Hasan AlMullah , Deputy CEO (Academic Affairs) and Dr Jeff Zabudsky,  Academic Advisor to the CEO.  Second prize went to Namra Ghafooruddin  and third to Sh Amna Alkhalifa. Honourable credit to Alyaa Almuabad and Sara Albuarki.
Posted on 29 December, 2016 in News